U.N. mulls a resolution on foreign fighters in Qusayr, Syria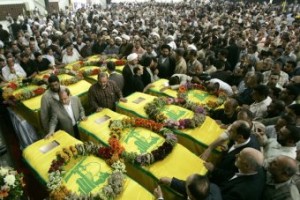 The U.N.'s top rights body will on Wednesday debate a draft resolution condemning the Syrian regime's use of foreign fighters in the besieged town of Qusayr, AFP news agency reported.
A draft resolution presented on Tuesday "condemns the intervention of foreign combatants fighting on behalf of the Syrian regime in al-Qusayr," an implicit reference to the involvement of fighters from Lebanon's Shiite group Hezbollah in the fierce battle for the strategic town.
The Syrian army, backed by fighters from Hezbollah, began an assault on the rebel stronghold of Qusayr on Sunday May 19.
Both the rebels and the regime view the town in central Homs province as a key strategic prize, because it lies near the Lebanese border and by the road connecting Damascus to the coast.
At least 79 members of Hezbollah have been killed fighting alongside the Syrian army in the town of Qusayr since last week, a watchdog said on Monday.
"The number of Lebanese Hezbollah fighters killed in recent months in the outskirts of Damascus and Homs has risen to 141," the Syrian Observatory for Human Rights said in a statement.
"That includes 79 fighters killed from the period starting at dawn on May 19 to dawn on Sunday yesterday, killed by mines, snipers and fighting in the town of Qusayr and its surroundings," the group added.
Al Arabiya, Agencies