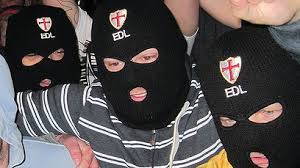 An estimated 1,000 members of a British nationalist group rallied against Muslims on Tuesday, as anger built over the arrest of a 10th suspect in the grisly machete killing of a soldier on a London street.
"They've had their Arab spring. This is time for the English spring," said Tommy Robinson, a leader of the English Defense League, said in The New York Post.
Police were trying on Tuesday to contain the protest, which took place right in downtown London. Protesters surged around Prime Minister David Cameron's office on Downing Street, chanting slogans against the Muslim community, The Post reported. And police already broke up one clash with the opposition protest group, Unite Against Fascism.
The rally came on the heels of the police arrest of a 50-year-old man on charges of conspiracy in the plot to hack to death 25-year-old British soldier Lee Rigby on the street last week, The Post reported.
Washington Times