FSA issues 24 hour ultimatum for Hezbollah withdrawal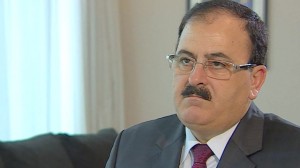 Free Syrian Army ( FSA) leader Gen. Salim Idriss gave a 24-hour ultimatum to Lebanese President Michel Suleiman, Arab League Secretary General Nabil al-Araby, and United Nations Secretary General Ban Ki-moon to get Hezbollah to withdraw its fighters from Syria, Voice of Lebanon Radio reported on Tuesday
Last week he also warned the Lebanese government to stop the Hezbollah fighters from entering Syria or risk bringing the Syrian war to Lebanon.
Al-Arabiya quoted Idriss as saying on Tuesday that "the FSA will chase after [Hezbollah's] militias wherever they are."
Idriss also held the Lebanese president responsible for what is happening in Syria with regard to Hezbollah's intervention in Al-Qusayr.
Hezbollah chief Sayyed Hassan Nasrallah on Saturday vowed that his party and the Syrian regime would emerge victorious in the fighting in Syria.
At least 79 members of Hezbollah have been killed fighting alongside the Syrian army in the town of Qusayr since last week, a watchdog said on Monday.
"The number of Lebanese Hezbollah fighters killed in recent months in the outskirts of Damascus and Homs has risen to 141," the Syrian Observatory for Human Rights said in a statement.
"That includes 79 fighters killed from the period starting at dawn on May 19 to dawn on Sunday yesterday, killed by mines, snipers and fighting in the town of Qusayr and its surroundings," the group added.