Lebanon sets June 16 as election date- updates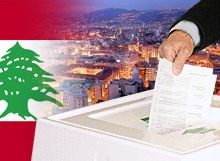 The caretaker cabinet ended its session on Monday at the Baabda Presidential Palace, where it decided to set the 16th of June as the date for the parliamentary elections, LBCI reported on Monday.
The cabinet also formed the Electoral Supervisory Committee and approved the budget of LBP 22 billion for the electoral expenditures.
Prior to the session, caretaker Interior Minister Marwan Charbel noted that the expatriates' vote is set for 7th and 9th of June in Melbourne, Sydney and Kuwait.
Following the cabine meeting , Caretaker Information Minister Daouq told reporters"The cabinet approved the necessary measures and a treasury loan worth LBP 22 billion in order to hold the elections."
Daouq quoted President Michel Suleiman as saying: "Everyone must exert efforts to steer Lebanon away from strife and every citizen must be vigilant", adding" The president described the rocket attack on Beirut's southern suburbs as an attempt to stir strife in Lebanon.
On his part , caretaker PM Nagib Mikati said with regards to the tension in Tripoli : "The army has been granted political cover in Tripoli and we trust that it will contain the tensions in the city."
Update 1-  MTV reported that the ministers representing Hezbollah, FPM and Amal approved the appointment of  the Electoral Supervisory Committee, even though it was one of the issues behind the collapse of the Mikati government
Update 2- Mikati submitted his application for parliament membership nomination
Update  3- MTV repotrted that  The Phalange Party  has decided to  submit the nominations of 16 candidates to the interior ministry today.
Earlier today  the Phalange Party's politburo issued the following statement:  "The Phalange Party once again calls on all allies and all political parties that are keen on national partnership to refrain from taking part in the parliamentary polls under the 1960 law."