fighting rages in Syria amid reports of chemical attacks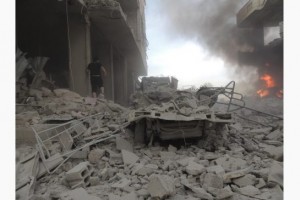 Beirut, Lebanon – Heavy fighting raged on Monday around the strategic border town of Qusair and the capital Damascus, amid renewed reports of chemical weapons attacks by Syrian President Bashar Assad's forces.
Opposition activists said Syrian troops backed by Lebanese Hezbollah fighters were advancing in areas around Qusair, pressing a sustained assault on a town long used by rebels as a way station for arms and other supplies from Lebanon.
For Assad, Qusair is a crucial link between Damascus and loyalist strongholds on the Mediterranean coast. Recapturing the town, in central Homs province, could also sever connections between rebel-held areas in the north and south of Syria.
Syrian government offensives in recent weeks are an apparent attempt to strengthen Assad's negotiating position before peace talks next month sponsored by the United States and Russia.
Assad's forces now hold about two-thirds of Qusair, said one activist who asked not to be named. Rebel reinforcements from elsewhere in Syria were trying to relieve the pressure, but their attacks had bogged down on the outskirts.
"So far they are just fighting and dying, their assault hasn't resulted in much yet unfortunately," the activist said.
Fierce clashes cut the highway running north from Damascus to the central city of Homs and shook the eastern outskirts of the capital, where dozens of people were suffering the effects of an apparent chemical attack, opposition sources said.
Video posted online from the eastern suburb of Harasta showed lines of victims lying on the floor of a large room, covered in blankets and breathing from oxygen masks.
Both sides in the conflict, now in its third year, have accused each other of using chemical weapons. France's Le Monde newspaper published first-hand accounts on Monday of apparent chemical attacks by Assad's forces in April.
Another video from Harasta overnight showed at least two fighters being put into a van, their eyes watering and struggling to breathe while medics put tubes into their throats.
It was not possible to verify the videos independently, given the difficulties of media access in Syria.
A doctor interviewed in another video said the alleged chemical attack in Harasta was revenge for a rebel raid on nearby military checkpoints. He complained of a severe shortage in staff and medical supplies to treat such victims.
"We have dozens of wounded from another chemical gas bomb attack … As you can see there are many people here just lying on the floor with no one to treat them," said the doctor, who did not give his name.
Many of the fighters affected by the attack, according to one opposition group, had recovered sufficiently to return to battle, suggesting its severity had been limited.
"Praise God, all our wounded men are in a stable condition," said the Harasta Media Group in a statement on Skype. "They are doing well and many have even returned to the frontline."
Reuters