Bahrain bans contact with Hezbollah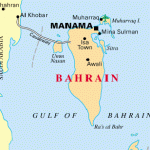 Bahrain on Monday banned political groups from making any contact with Lebanese militant movement Hezbollah, a day after the Gulf Arab state's foreign minister called the head of the Shi'ite Muslim group a "terrorist".
The move reflected sectarian tensions within Bahrain and across the Sunni Muslim-dominated Gulf region stoked since 2011 by Syria's civil war, and exacerbated further after Hezbollah's leader openly acknowledged it was fighting on Syrian President Bashar al-Assad's side against mainly Sunni rebels.
"Political associations are banned from making any kind of contact with the Lebanese Hezbollah organization, for it (is) a terrorist organization," the official Bahrain news agency BNA quoted an order issued by the justice and Islamic affairs minister, Sheikh Khaled bin Ali al-Khalifa, as saying.
Bahrain, a majority Shi'ite country but ruled by the Sunni al Khalifa family, has been buffeted by political unrest since 2011 with mostly Shi'ite Bahrainis agitating for democratic reforms and more say in government.
Bahrain has accused Iran, Hezbollah's main backer, and the Lebanese Shi'ite militants of fanning the unrest. They both deny it, although Hezbollah has criticized the Manama government's security crackdowns on Shi'ite protesters.
The justice minister's statement did not say what action the government would take if any party failed to comply with the ban. Al Wefaq, the main Shi'ite opposition party in Bahrain, said it had no formal contact with Hezbollah.
"Contacts between Al Wefaq and Hezbollah do not exist," Al Wefaq member Hadi al-Moussawi told Reuters. "There is no cooperation between us. Our concerns are internal and do not require us to be in contact (with them)," he said.
Foreign Minister Sheikh Khaled bin Ahmed al-Khalifa, in comments on Twitter on Sunday, branded Sayyed Hassan Nasrallah a "terrorist" after the Hezbollah leader proclaimed that his fighters would help deliver victory for Assad in Syria's war.
The minister's comments marked a departure from the traditional Arab view of Hezbollah as an important "resistance" force against Israel and showed how sectarian strains in the region have worsened over the war on Syria.
Hezbollah's increasing military involvement on the side of Assad, whose minority Alawite sect derives from Shi'ite Islam, has turned many Arabs who sympathize with the Syrian rebels against his movement.
An uprising broke out in Bahrain in early 2011 with thousands of people, mainly Shi'ites, taking to the streets. The Bahraini government soon crushed the revolt with help from other Sunni-led Gulf Arab states, but protests have persisted.
Bahrain's main opposition group suspended its participation in reconciliation talks with the government for two weeks, blaming the slow pace of talks and the raid on a top Shi'ite Muslim's cleric home.
Reuters