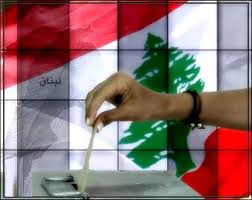 LBC published the following list of electoral candidates of some key parliamentary blocs. Since the rival political blocs did not agree on an electoral law for use in the upcoming elections, all the applications were based on the 1960 law.
Lebanese Forces:
-Georges Adwan
-Setrida Geagea
-Antoine Zahra
-Fadi Karam
-Dima Ghazali
-Wehbi Katisha
-Imad Wakim
-Majed Edy Abi el-Lamaa
-Richard Kyomjian
-Shawki Daccache
-Joseph Isaac
-Ajaj Haddad
-Elie Tanious lahoud
-Bachir Matar
-Hanna Mikael Matar
-Jean Sawaya
-Georges Eid
-Youssef Shartouni
-Bogus Kordian
-Rabih Franji
-Marwan Rahme
-Antoine Shahla
-Georges Matar
-Antoine Chalhoub
-Riad Akl
-Georges Semaha
Free Patriotic Movement:
-MP Michel Aoun
-MP Ibrahim Kanaan
-Minister Gebran Bassil
-Minister Nicolas Sehnaoui
-MP Alain Aoun
-MP Simon Abi Ramia
-MP Ghassan Mkheiber
-MP Nabil Nicolas
-MP Abbas Hashem
-MP Naji Gharious
-MP Fadi Aawar
-MP Hekmat Dib
-MP Michel Helou
-Former Mp Salim Aoun
-Ziad Abs
-Cesar Abi Khalil
-Anthony al-Zoghbi
-Fouad Chehab
National Struggle Front:
-Walid Jumblatt
-Nehme Tohme
-Elie Aoun
-Alaa Eddine Terro
-MP Akram Chehayyeb
-MP Ayman Choucair
-MP Wael Abou Faour
-Jihad al-Zhairi
Arab Democratic Party:
-Refaat Ali Eid
*Independent Candidates:            
-Elie Ferzli
-Nasri Lahoud
– Ahmad Fathi Safadi
– Nathalie Fadlalah
*Arab Movement: 
– Shaker al-Berjawi
*Syrian Social Nationalist Party:
– Walid Azar
The failure of the lebanese politicians to agree on a new electoral law for parliamentary elections has also prompted the Future Movement parliamentary bloc ( the largest in the parliament ) to make preparations to submit candidates for the upcoming elections based on the 1960 electoral law, according to a report by the An Nahar newspaper last week
*Updated
This error message is only visible to WordPress admins
Error: No connected account.
Please go to the Instagram Feed settings page to connect an account.