Jumblatt for extending parliament term due to Tripoli unrest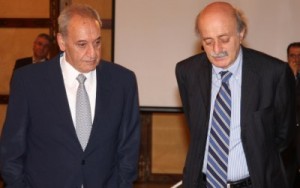 Progressive Socialist Party leader MP Walid Jumblatt said on Friday following a meeting with Speaker Nabih Berri that the current security situation in Lebanon is a major hurdle against staging the parliamentary elections.
"The elections cannot be held amid this tense situation in Tripoli," Jumblatt said , adding: "I support the extension of the term of parliament to protect state institutions and fend off chaos." He said after his meeting in Ain al Tineh.
"These are my words after my meeting with my friend, Speaker Berri, and I take responsibility for what I'm saying," he told reporters.
Commenting on the deadly clashes in Tripoli and the battle in the Syrian town of Qusayr, Jumblatt said: "There are forces who have opted for chaos in Tripoli and it is prohibited to attack the army because we would be committing self-destruction."
"We must protect the army under any circumstances," Jumblatt stressed.
He noted that major world powers are currently trying to resolve the crisis in Syria, such as the U.S. and Russia and that it was futile for Lebanon to attempt to implicate itself in the Syrian crisis.
"Superpowers are trying to resolve the crisis in Syria. Who are we in Lebanon to try and shift the balance in Syria?"
Fierce sectarian clashes erupted between the Alawite-populated neighborhood of Jabal Mohsen and neighboring Sunni areas on Sunday, leaving over 23 people dead as of Friday.
Jumblatt's remarks come after Lebanon's President Michel Suleiman cautioned the Shiite group Hezbollah on Friday over its militia fighting alongside the regime troops in neighboring Syria :
"The resistance is more noble and more important than anything, and should not get bogged down in the sands of dissension, whether in Syria or Lebanon," he said in a statement, referring to Hezbollah's role as a resistance movement versus its recent involvement in Syrian civil war.
Jumblat's remarks also come after the National News Agency reported on Friday that the caretaker cabinet will convene on Monday at the Baabda Palace to discuss the formation of the electoral supervisory commission and the electoral expenses.
Several candidates submitted on Friday their applications for the upcoming parliamentary polls, including the Free Patriotic Movement, the AMAL movement, the March 14 Independent MPs, the Lebanese Forces and Hezbollah, despite strong objections over the adoption of the 1960 electoral law..