Gas cylinder blast on Pakistan school bus kills 17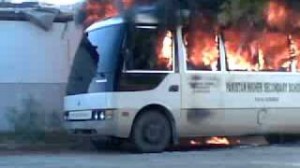 At least 17 children were burned to death in eastern Pakistan on Saturday when a faulty gas cylinder exploded on the bus taking them to school, police said.
Police officer Mohammed Rasheed said seven children were also injured in the explosion on the outskirts of the city of Gujrat.
"This is a very sad incident. According to our information, at least 17 children were burned to death," he said. "The school bus caught fire after the blast. We have transported all the victims to a nearby hospital."
Gujrat is about 200 kilometers (120 miles) southeast of the capital, Islamabad.
The accident comes after a pair of suspected militant attacks killed nine people in two different areas of northwest Pakistan on Friday.
In the deadlier of the two attacks, suspected militants armed with heavy weapons attacked a police convoy in Mattani, 20 kilometers (12 miles) south of the main northwest city of Peshawar, killing six policemen and wounding seven others, said senior police officer Shafiullah Khan.
In the second attack on Friday, a suicide bomber walked up to a vehicle owned by an Afghan religious leader in Peshawar and set off his explosives, killing three people, said police officer Riaz Ali Shah.
The leader, Haji Hayatullah, was not harmed in the attack because he was in a nearby mosque attending Friday prayers. Hayatullah's driver and guard were killed, said Shah.
A passerby was also killed and two others were wounded, said Peshawar police chief Liaquat Ali Khan.
There are more than 1 million refugees in Pakistan from neighbouring Afghanistan.
No one has claimed responsibility for the attacks.
AP