Hezbollah chief to appear Saturday on TV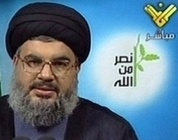 Hezbollah Secretary General Sayyed Hassan Nasrallah will make another TV appearance via video link. He will deliver a speech on Saturday at 5: 30 pm on the occasion of the Resistance and Liberation day and is expected to talk about the latest development in Lebanon and the region, Al Manar TV reported on Saturday
A ceremony will be held by Hezbollah in the Bekaa town of Machgara to celebrate the Resistance and Liberation day, the report added.
Nasrallah's speech comes a day after Lebanon's President Michel Suleiman cautioned the Iranian backed Shiite group Hezbollah over its militia fighting alongside the regime troops in neighboring Syria.
"The resistance is more noble and more important than anything, and should not get bogged down in the sands of dissension, whether in Syria or Lebanon," he said in a statement, referring to Hezbollah's role as a resistance movement versus its recent involvement in Syrian civil war.
May 25 marks the end of Israel's 22-year-long military occupation, which occurred in 2000. That year Israel completed its withdrawal from the country's southern region.
Hezbollah, which was credited with liberating Lebanese territories from Israel in 2000 was a very popular organization in Lebanon and throughout the Arab world. But according to analysts ever since its 2006 war with Israel, Hezbollah has become a huge liability for Lebanon. In 2006 Hezbollah's arms were used to try and bring down the government of former PM Fouad Siniora. In 2008 Hezbollah pointed its guns against the Lebanese people when it occupied more than half of Beirut and tried but failed with a great loss of life to occupy Mt Lebanon . In 2011 it brought down the government of former PM Saad Hariri and reportedly used its arms to force progressive socialist party leader MP Walid Jumblatt and his parliamentary bloc to vote for their candidate Nagib Mikati as the new premier . On March 22 the government of PM Mikati collapsed afterHezbollah refused to extend the term of the Internal Security Forces chief. Hezbollah's current support for the Syrian regime in its brutal crackdown against the pro democracy uprising and its recent involvement in terror operations in Bulgaria and Cyprus are additional concerns for the Lebanese people, analysts say.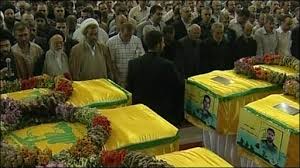 At least seventy-five fighters from the Hezbollah militant group were reported killed in Syria since first becoming involved in the war months ago.
The Shiite militia's drive to save Syria's president is testing Lebanon's own fragile, sectarian peace and raises the stakes in a broader struggle for power in the region and the wider world.
Having long denied its engagement in Syria behind President Bashar al-Assad, Hezbollah has committed itself this week to the fight for the strategic small town of Qusayr, sending hundreds of men .
Their coffins, escorted by stern-faced Hezbollah gunmen and corteges flying the movement's yellow banner, stream back to Shi'ite villages in the northeastern Bekaa Valley, ending any discretion about its backing for Assad and his Alawite minority.
Hezbollah has reportedly also has been arming and training the Alawites of Jabal Mohsen in the Lebanese port city of Tripoli, who have been engaged in the fiercest communal fighting with the mostly Sunni Baba al Tabbaneh neighborhood.
The rebel Free Syrian Army (FSA) held the Hezbollah chief personally responsible for the situation in the Syrian border town of Qusayr, as sectarian tension was on the rise in neighboring Lebanon.
"We announced that Hassan Nasrallah will be held personally responsible for the current situation because he in person is meeting with all of [his fighters] before they head to Qusayr," FSA spokesperson Louay Almokdad told Al Arabiya English. "We are today calling Nasrallah a killer of the Syrian people."