Shiites urged to end Hezbollah's involvement in Syria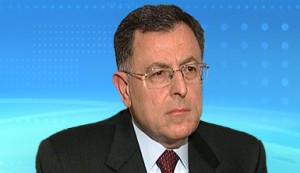 Former lebanese Prime Minister and current leader of the Future Movement parliamentary bloc MP Fouad Siniora contacted on Thursday several Shiite religious and political figures as part of efforts to put an end to Hezbollah's "dangerous" involvement in Syria Civil war .
Siniora stressed the need to end the party's involvement "through all possible means."
"The fighting violates the constitution, laws, Baabda Declaration, the policy of disassociation, and international resolutions," Siniora noted in a statement issued by his press office.
His list of contacts included Lebanon Speaker Nabih Berri, former Speaker Hussein al-Husseini, Vice President of the Higher Islamic Shiite Council Sheikh Abdul Amir Qabalan, former Ministers Mohammed Abdul Hamid Baydoun and Ibrahim Shamseddine, and clerics Sayyed Ali Fadlallah, Sayyed Ali al-Amin, Sayyed Mohammed Hassan al-Amin, and Sayyed Hani Fahs.
Saniora highlighted to them the dangers of Hezbollah's involvement in the Syrian crisis, saying that it will drag Lebanon towards more unrest.
"Hezbollah's involvement in Syria could drag Lebanon and the Lebanese people towards a confrontation with a large segment of the Syrian people, who oppose the Syrian regime," he explained.
"Hezbollah's actions are leading to the deaths of Lebanese youths and Syrian citizens. They are causing human suffering and inexplicable destruction" that may steer Lebanon to a confrontation that it has no power in resisting, continued the former PM.
Siniora urged the need for cooperation between all Lebanese factions in order to end Hezbollah's involvement, demanding that practical measures be taken to that end.
The Syrian Observatory for Human Rights announced on Thursday that over a hundred Hezbollah members were killed so far fighting alongside the Syrian regime.