25 killed, 30 injured in suicide attacks in Niger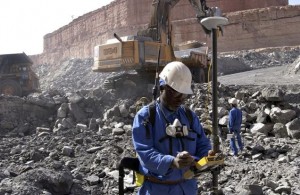 25 people were killed and 30 got injured after two suicide bombs on Thursday hit a military base and a plant run by French nuclear giant Areva in northern Niger, souces said.
20 Nigerien soldiers and 5 assailants died in twin suicide- attacks against a military barracks in Agadez, the main town in northern Niger, and another one at a factory owned by Somair, a subsidiary of the French group Areva in Arlit in the northern Niger.
The attacks were made on Thursday morning by Niger's National Defence Minister Karidjo Mahamadou who issued a press statement.
There were also 30 people who were injured, among them 16 soldiers and 14 civilians, the same source said.
"This Thursday, at around 5:30 a.m, two groups of individuals armed with explosives on board Toyota 4×4, simultaneously drove into the Agadez military barracks and the factory of Somair mining company in Arlit with a firm determination to carry out attacks," the statement from the defence minister indicated.
"These terrorist attacks carried out by the suicide-bombers were contained by our soldiers who, despite the heavy loss, managed to neutralize the assailants some of whom decided to blow themselves up," the minister said in the statement.
The Agadez death toll was 20 soldiers and 16 of them injured, while 3 assailants were killed. In Arlit, 14 civilians were injured while two assailants were killed.
The defence minister said that the Movement for Oneness and Jihad in West Africa (MUJAO), an islamist group operating in northern Mali, claimed responsibility for the twin suicide attacks.
"The situation is under control and the search for other assailants has already been launched," the minister said while also promising to inform the public about how the situation develops.
A three days national mourning period will be observed across the entire national territory starting on Thursday.
"The Nigerien armed forces would wish to reaffirm their commitment to defend and protect Niger and its people at all cost, " the national defence minister reiterated.
It's worth noting that since the beginning of the crisis in neighbouring northern Mali, these are the first attacks on the Nigerien territory.
Xinhua