Iran, Hezbollah role in Syria complicates peace strategy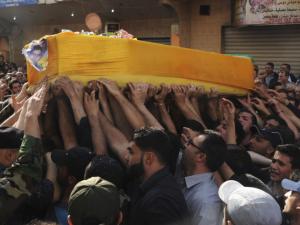 As evidence grows of increased Iranian support for the Syrian government, the Obama administration's strategy to bring the bitter fighting there to a close faces more challenges than ever.
With White House support, Secretary of State John Kerry has pushed for an international conference in Geneva in June that would bring representatives of the Syria government together with the opposition.
The aim would be to negotiate a transitional government that would take over if President Bashar al-Assad vacates his post and to put an end to the civil war that has killed more than 80,000.
But the stepped-up support Mr. Assad has received from Iran and Hezbollah in recent months appears to have fortified his belief that he can hang on to power and prevail militarily — or at least control a strategically significant swath of the country.
The limited assistance the United States and its partners have so far been willing to provide the rebels seems unlikely to prompt Mr. Assad to look for a political way out, critics maintain.
And persistent divisions within the ranks of the Syrian opposition, which is again seeking to select a new political leadership, can only be a source of comfort to the Syrian president.
In an interview on Tuesday, Gen. Salim Idris, the head of the opposition's military command, suggested that he was too preoccupied with the brutal fighting in the city of Qusayr even to worry about attending the Geneva meeting.
"Let the regime, Iran and Lavrov go to Geneva," he said, referring to Russia's foreign minister, Sergey V. Lavrov, who played a major role with Mr. Kerry in organizing the session.
The big issue is whether negotiations can succeed if the United States, its allies and the Syrian opposition do not have more leverage over a seemingly implacable Assad government.
"We have long said — and the secretary has said — that it is important to change Bashar al-Assad's calculations in order to get to a political settlement," a senior State Department official told reporters Tuesday in a conference call.
Mr. Kerry planned to meet Wednesday with members of the Syrian opposition and fellow foreign ministers in Amman, Jordan, to review the Syrian situation.
"One of the things we'll be talking about here in Amman tomorrow is what else needs to be done with respect to the military balance on the ground," the official added.
As the Geneva meeting approaches, however, it is Mr. Assad's backers who appear to be pulling out all of the stops.
"Iran's role and Hezbollah's role has grown substantially over the last couple of months," the State Department official said.
The number of Iranian weapons shipments to Syria declined after Mr. Kerry pressed Prime Minister Nouri Kamal al-Maliki of Iraq during a March visit to Baghdad to order more inspections of Iranian flights that crossed Iraqi airspace.
But after a lull, the flights have started up again. In early May, Israel carried out an airstrike against a warehouse full of Fateh-110 surface-to-surface missiles at Damascus International Airport that were flown from Iran on three cargo planes and that the Israelis feared would be transferred to Hezbollah, the Lebanese militia that is supported and equipped by Iran.
That led to a short break in the flights, but by May 11, the Iranian flights had resumed, according to American officials familiar with intelligence reports.
Syrian opposition officials have also told the United States that Iranians have joined Hezbollah in the fighting in Qusayr, a development American officials said they could not independently verify but that they suggested was plausible.
According to American intelligence reports, there are some 200 Iranian paramilitary Quds Force personnel in Syria. Qassim Suleimani, the Quds Force commander, recently ordered Iranian artillery and armor officials to help Mr. Assad's regime, American officials say.
And Mr. Suleimani has also requested that several hundreds fighters from Asaib al-Haq and Kataib Hezbollah, two Iraqi Shiite militias that have been trained by the Iranians, join the war effort in Syria, according to officials familiar with the intelligence assessments. Iran is heavily involved in training thousands of members of Mr. Assad's militia, the Jaish al-Sha'bi, including in Iran.
Iran's somewhat shadowy role burst into the open in February when Brig. Gen. Hassan Shateri, a Quds Force officer, was killed when he ran into a rebel checkpoint after visiting Aleppo.
In the maneuvering before the Geneva meeting, Mr. Lavrov said recently that he had told Mr. Kerry that Iran should attend the session given its "influence" on the situation in Syria. But the senior State Department official, who described Iran's role as "pernicious," asserted that its participation was not needed.
Russia recently delivered sophisticated antiship cruise missiles to Syria, a step that Gen. Martin E. Dempsey, the chairman of the Joint Chiefs of Staff, said might embolden Mr. Assad to hold fast.
While Hezbollah and Iran have thrown their support behind Mr. Assad, the United States and its allies have been more deliberate.
At a conference on Syria in Istanbul in late April, Mr. Kerry pledged to increase the nonlethal aid to the armed Syria opposition beyond the food rations and medical kits that the United States has been providing. But a month later, the Obama administration has yet to notify Congress what additional assistance is to be sent or to deliver the new aid.
"We will certainly be looking at doing things that will help build the Supreme Military Command's logistical capabilities," the State Department official said, referring to the military wing of the opposition. "So we'll get that notification up to Congress shortly, I hope."
In Washington, the Senate Foreign Relations Committee, of which Mr. Kerry was chairman before becoming secretary of state, voted on Tuesday to approve legislation that would authorize expanded assistance to the rebels in Syria, including weapons.
"I think all of us understand the risks that come with this type of legislation," said Senator Bob Corker, Republican of Tennessee. "But we also know that if we don't shift the balance there and the moderate groups don't have the opportunity to be successful the day after Assad, then I think all of us are going to regret we did not play a role in helping make that happen."
Caitlin Hayden, a spokeswoman for the National Security Council, declined to comment on the proposed legislation but said the White House's policy was clear.
"We are working urgently to end the conflict in Syria and hasten a transition from Bashar al-Assad to a democratic Syria that is inclusive of all Syrians," she said.
NY Times