Hezbollah's death toll 28, largest in a single Syrian battle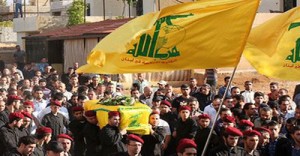 BEIRUT, Lebanon — Fighting raged for the second day on Monday in the strategic Syrian city of Qusayr, as government forces, backed by Shiite fighters from the Lebanese militant group Hezbollah, unleashed new airstrikes and rebels fought back fiercely in parts of the city, Syrian opposition activists said.
The toll of dead and wounded continued to rise for Hezbollah, which is fighting its biggest battle yet on the side of President Bashar al-Assad. Both sides have depicted the fighting in Qusayr as a turning point in the war that is raising regional tensions as Hezbollah plunges more deeply into the conflict.
Funerals for Hezbollah fighters were being planned in the group's strongholds in the Bekaa Valley and southern Lebanon, relatives of the dead said. The Syrian Observatory for Human Rights, an opposition watchdog group, reported that at least 28 Hezbollah guerrillas had died in the fighting. If confirmed, that would be by far the largest toll for Hezbollah in a single Syrian battle.
After heavy fighting throughout Sunday, in which regime forces appeared to be gaining ground, Syrian state media and pro-opposition sources gave widely divergent versions on Monday of the battles which raged in the city and left scores of fighters dead.
Jad, an activist from Qusayr who declined to be identified by his full name, reached through Skype, said that rebels killed 30 members of Hezbollah and regime forces on Monday at dawn in an ambush when the government soldiers were trying to retrieve the bodies of the group's commanders. A video posted online, which could not be independently verified, showed an activist pointing to seven damaged vehicles apparently belonging to Hezbollah and listed the losses inflicted on the group.
In the video, fighters then seize the arm of a dead man on the floor and point out a tattoo of Imam Ali, the cousin and son-in-law of prophet Muhammad, a religious figure revered by Shiites. This, the fighters said, proved the body was that of a Hezbollah fighter.
On Monday, SANA, the Syrian official state news agency, reported that army units "restored stability and security to the full eastern area" of Qusayr, killing large numbers of "terrorists and destroying their hideouts". It published four photographs of a battered vehicle that it said was found in Qusayr, and quoted a "media source" as claiming the vehicle belonged to Israeli forces and was used by "terrorists" in the city, proving "the scale of Israel's military and intelligence involvement."
On Sunday, Syrian government troops backed by Hezbollah fighters pushed into parts of Qusayr, hammering the city with airstrikes and artillery, killing at least 52 people and wounding hundreds as civilians cowered, unable to flee, activists said. By the end of the day on Sunday, about 60 percent of the city, which is in Homs Province, was under the army's control for the first time in months, one activist said.
Mr. Assad, according to people who have spoken with him, believes that reasserting his hold in the province is crucial to maintaining control of a string of population centers in western Syria, and eventually to military campaigns to retake rebel-held territory in the north and east. Many analysts say that it is unlikely that the government will be able to regain control of those areas, but that it could consolidate its grip on the west, leading to a de facto division of the country.
Echoes of the battle in Qusayr have rippled across neighboring Lebanon, which is deeply divided between supporters and opponents of Mr. Assad. In the northern city of Tripoli, from which many Sunni Muslim militants have joined the Syrian rebels, residents held a candlelight vigil late Sunday in support of Qusayr's rebels. In Shiite areas, residents worried about relatives fighting in Syria and prayed for victory in a battle Hezbollah has framed as a proxy fight against its main foe, Israel, and an intervention to defend Shiites in Syria, of both Lebanese and Syrian descent, and other minorities they say are threatened by the uprising led by Syria's Sunni majority.
Recapturing the strategic rebel-held town, located in the province of Homs, has been a long-held goal of the Syrian regime as Qusayr constitutes a major supply conduit regularly used by rebels to smuggle weapons from Lebanon into the province of Homs.
The Joint Command of the Free Syrian Army, the loose-knit United States-backed rebel umbrella group, has said that hospitals in Baalbek and the Hezbollah-controlled southern suburbs of Beirut had accepted many Hezbollah wounded. It issued a rallying cry that supporters of Hezbollah were bound to see as inflammatory, calling the group "impure," in a phrase that could resonate as a sectarian slur against Shiites.
It congratulated rebels holding out in Qusayr, calling them "brave heroes whose victories will be highlighted by history in letters made of light as they have defended their land and their honor from the impurity of the criminal terrorist members of Hezbollah." It also taunted Hezbollah's leadership, saying, "We know very well how their gang is constructed and we know how to take it apart and we will take it apart. We see heads that are ripe for the picking."
In a dig at Lebanese families sending Hezbollah fighters to the battle, the Free Syrian Army said, "We can now say that every single family or neighborhood in Baalbek or Hermel has a dead family member among their sons who fought in Qusayr."
One relative of a slain Hezbollah fighter spoke in equally strong terms about the battle, saying in an interview that it was as crucial for the party as the struggle against Israel.
According to activists, Hezbollah fighters on Sunday swept into villages that had been controlled by rebels but met with fierce resistance there. State media and opposition activists reported that regime forces, backed by Hezbollah, managed to recaptured more than half of Qusayr including the municipality building.
"Battles are still raging between the jihadists and Hezbollah," said Malek Ammar, an anti-regime activist in Qusayr, referring to the fighting on Monday. "All their attempts yesterday to advance from several fronts failed. For two days now, they've been trying to advance deeper into the town but, praise be to God, a large number of their fighters were killed and 16 vehicles were destroyed. Their plan has failed. Now there's a new plan".
Mr. Ammar added that rebels found out, through an informant, that Hezbollah fighters have decided to shift tactics and infiltrate the outskirts of the city through small alleyways in order to turn the battle into a more traditional guerrilla war which they have been trained for. Regime forces have been besieging the town from all sides to prevent supplies from reaching rebels, according to activists in Qusayr.
Tarek, another activist in Qusayr reached through Skype, said he was filming events unfolding in the city from a centrally located building, and that regime forces have been pounding Qusayr relentlessly since Sunday.
NY Times