UN General Assembly Approves Syria Resolution
T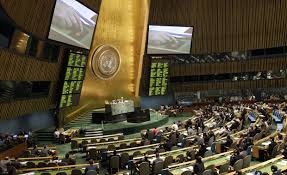 he U.N. General Assembly approved an Arab-backed resolution Wednesday calling for a political transition in Syria and strongly condemning President Bashar Assad's regime for its escalating use of heavy weapons.
The resolution, which is not legally binding, was adopted by a vote of 107-12 with 59 abstentions.
Support was much lower than for the 193-member world body's resolution in August denouncing Syria's crackdown on dissent and urging a political solution. That resolution was approved by an overwhelming vote of 133-12 with 31 abstentions.
Russia, a close ally of Syria, urged a "no" vote this time, and a group of Latin American countries demanded changes — which weren't accepted — to water down the resolution's support for the Syrian National Coalition, the main opposition group.
Critics of the resolution called it one-sided in favor of the opposition, which the Arab League is supporting, and expressed concern that it could hurt a recent U.S.-Russian agreement to convene a follow-up international meeting to promote a political transition.
The United States strongly supported the resolution, signing on as a co-sponsor. U.S. deputy ambassador Rosemary DiCarlo said the resolution supports the U.S.-Russia initiative and "will send a clear message that the political solution we all seek is the best way to end the suffering of the people of Syria."
But Russia's deputy U.N. ambassador Alexander Pankin called the resolution "very harmful and destructive," saying it is aimed at replacing the Syrian government.
"It's particularly irresponsible and counterproductive to promote this when the United States and Russia reached a very important agreement … and need a unified approach," he said.
The Arab group decided to seek approval of a wide-ranging resolution on Syria in the General Assembly, where there are no vetoes, to reflect international dismay at the increasing death toll, now more than 70,000, and the failure to end the more than two-year-old conflict.
Unlike Security Council resolutions, which are legally binding, General Assembly resolutions cannot be enforced. But approval of an assembly resolution would counter the paralysis of the deeply divided Security Council, where Syria's allies, Russia and China, have vetoed three Western-backed resolutions aimed at pressuring Assad to end the violence.
ABC/ AP