Israel warns Syria not to retaliate, hints at new strikes,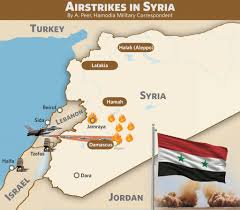 A senior Israeli official signaled on Wednesday that Israel was considering further military strikes on Syria to stop the transfer of advanced weapons to Islamic militants, and he warned the Syrian president, Bashar al-Assad, that his government would face crippling consequences if it retaliated against Israel.
The Israeli official said: "Israel is determined to continue to prevent the transfer of advanced weapons to Hezbollah. The transfer of such weapons to Hezbollah will destabilize and endanger the entire region."
"If Syrian President Assad reacts by attacking Israel, or tries to strike Israel through his terrorist proxies," the official said, "he will risk forfeiting his regime, for Israel will retaliate."
The Israeli official, who has been briefed by high-level officials on the Syria situation in the past two days, declined to be identified, citing the need to protect internal Israeli deliberations. He contacted The New York Times on Wednesday.
The precise motives for Israel's warning were uncertain: Israel could be trying to restrain Syria's behavior without undertaking further military action, or alerting other countries to another strike. That would ratchet up the tension in an already fraught situation in Syria, where a civil war has been raging for more than two years.
Nearly two weeks ago, Israeli warplanes carried out two strikes, the first hitting bases of the elite Republican Guard and storehouses of long-range missiles, in addition to a military research center that American officials have called the country's main chemical weapons site.
A more limited strike on May 3 at Damascus International Airport was also meant to destroy weapons being sent from Iran to the Islamic militant group Hezbollah. The Israeli government did not confirm either of the attacks, which followed one earlier this year.
The Syrian government publicly condemned Israel for the assaults, saying it "opened the door to all possibilities." The Syrian deputy foreign minister, Faisal Mekdad, declared in an interview with Agence France-Presse, "We will respond immediately and harshly to any additional attack by Israel." He described the Israeli strikes as a "declaration of war."
Mr. Assad and Hassan Nasrallah, the leader of Hezbollah, have both said in recent days that the Israeli-Syrian border, which has been relatively quiet despite the more than two years of civil war inside Syria, could become a "resistance front," in response to Israeli aggression.
On Wednesday, the Israeli newspaper Haaretz reported that several mortar shells, fired from across the Syrian border, had landed in the Israeli-occupied Golan Heights. The newspaper attributed the information to an official with the Israel Defense Forces.
The shells landed on Mount Hermon, in the Israeli-controlled Golan Heights, around 6 a.m. Wednesday. The rockets were the latest in a series of what Israel has generally considered errant fire from internal Syrian fighting across the armistice line that landed in its territory, and did not cause any injuries or damage. Israel did not fire back on Wednesday, as it has on several previous occasions, but the incident did cause the closing of Mount Hermon, a popular tourist site, to the public for several hours, during a Jewish holiday in which hiking in the Golan is popular.
In his comments, the Israeli official noted that "Israel has so far refrained from intervening in Syria's civil war and will maintain this policy as long as Assad refrains from attacking Israel directly or indirectly."
"Israel," he said, "will continue its policy of interdicting attempts to strengthen Hezbollah, but will not intercede in the Syrian civil war as long as Assad desists from direct or indirect attacks against Israel."
Mark Regev, a spokesman for Prime Minister Benjamin Netanyahu, declined to discuss the meaning of the Israeli official's statement. "We're not going to comment on the story," he said.
American and Israeli political analysts agree that Israel has little motive to intervene in Syria's civil war, but is deeply concerned about the transfer of advanced weapons, as well as the danger that Mr. Assad's stockpiles of chemical weapons could be used against Israel.
Satelite images
Israel's Jerusalem post published satellite images that were obtained by Israel's Channel 2 which show the container terminal, a storage area at the Damascus Airport before and after they were reportedly hit by an Israeli strike targeting a weapons transfer for Hezbollah in Lebanon.
NY Times/JP