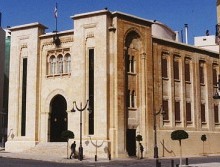 Lebanon Speaker Nabih Berri has reportedly delayed the opening  of the Parliament session to allow the politicians to reach a deal on a consensus hyprid electoral law that will replace the current 1960 law.
As was expected March 14 held a press conference at the parliament this morning to announce the deal reached last night on an electoral hybrid law.
Lebanese Forces MP George Adwan told the reporters that the Orthodox proposal was suspended during the last Bkirki meeting with the aim of reaching a deal on a consensus hybrid electoral law.
He said the March 14 electoral law deal was based on the hybrid law that Berri had previously proposed stressing that the proposal is not aimed at confronting the partners in the nation or the FPM. "Mistaken are those who think that we seek to confront other factions."
Adwan stressed that March 14 decided to give up some seats for the sake of achieving unity in Lebanon.
Adwan said a delegation from March 14 will meet with Berri after the press conference. "We will discuss with Berri our hybrid plan but he already has its details because it is his proposal from the start," adding "We want to tell the Lebanese that we took this step to reach consensus.
Adwan also told reporters that MP Akram Shehayyeb who represents PSP leader MP Walid Jumblatt did not attend today's press conference but signed the draft-law to show commitment to it.
Adwan said the Phalange party "should be with us "
Adwan said the the deal is based on electing 46 percent of MPs via the proportional representation system and 54 percent under the winner-takes-all majoritarian system.
Update
Phalange Party MP Sami Gemayel was holding a meeting this morning with Speaker Nabih Berri in Ain Tina. Following the meeting he told reporters "We will not obstruct any consensual agreement, " adding :"We have reservations on the hybrid electoral proposal and consultations are ongoing over the matter". Gemayel objected to the distribution of electoral districts .
After Gemayel's meeting , Berri held a meeting with the March 8 lawmakers.
Update 2: MP Adwan said that Speaker Berri called for the parliamentary subcommittee to meet under his chairmanship at 1:00 pm .