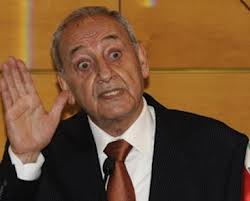 In response to the deal reached on a hybrid electoral law ( to replace the current 1960 law ) between the Lebanese Forces party and the Future Movement its key March 14 ally, Lebanon Speaker Berri offered a last minute counter-proposal for a hybrid electoral law following a meeting with about 30 March 8 MPs at his residence Tuesday evening, according to local media reports.
Berri made the announcement of his counter-proposal after the LF, Future Movement and PSP reached an 11th hour deal on an electoral law.
Berri's offer calls electing 64 MPs ( 50 % of the parliament) based on the proportional representation system and the other half based on the majoritarian winner-takes-all system , while keeping the number of districts at 26.
On the other hand the formula reached between the LF,Future and PSP calls for a hybrid law by which 69 MPs ( 55 % of the parliament) will be elected on the basis of the majoritarian, winner takes all system and 59 MPs ( 45 % of the parliament) on the basis of the proportional system. The country would be divided into six governorates under the proportional representation system and 27 districts under the winner-takes-all scheme.
According to a report by An Nahar daily published on Wednesday, Berri's suggestion received the backing of several March 8 and March 14 blocs.
The official announcement of the LF,Future and PSP deal will be made during a press conference in parliament on Wednesday morning ahead of four consecutive sessions that Berri has called for, An Nahar reported
Berri announced on Monday that he placed the controversial Orthodox Gathering proposal as the only item on the agenda for Wednesday's plenary parliamentary session, despite the objections of many parties.
The Orthodox proposal is the only draft-law approved by the joint parliamentary committees. But has been rejected by Future Movement, the National Struggle Front and the March 14 alliance's independent Christian MPs claiming that it encourages extremism and leads to more sectarianism in the country. On the other hand the March 8 alliance and mainly Hezbollah and the Free Patriotic Movement stress that the plan is the only way to guarantee the best representation for the Christians.
Update: The Phalange Party has reportedly rejected the  hybrid electoral formula that won the approval of the Lebanese Forces , the Future Movement and PSP , according to local reports. It is not clear whether the Phalange party has given its approval to the Berri proposal .
Update 2 – MTV reported that  March 14 independent MPs announced from the residence of MP Butros Harb that they support the hybrid electoral draft-law deal reached between  the Lebanese Forces , the Future Movement and PSP.
This error message is only visible to WordPress admins
Error: No connected account.
Please go to the Instagram Feed settings page to connect an account.