Israeli PM accused of missing a historic peace opportunity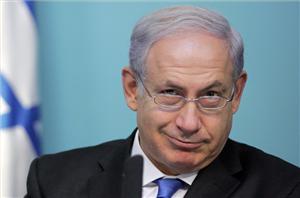 On the surface, the Arab League's improved peace initiative offers Israel everything it ever dreamed of — normal relations with an entire region that has long objected to the very existence of the Jewish state, and even the chance to keep some war-won land.
But two weeks after U.S. Secretary of State John Kerry persuaded Arab leaders to reissue their 2002 offer with new incentives, Israel is maintaining a striking silence, and critics are accusing Prime Minister Benjamin Netanyahu of missing a historic chance.
"We are speaking of an opportunity that must be seized to renew the diplomatic process," former Prime Minister Ehud Olmert told The Associated Press in a statement. "It's a very important development."
When it was first issued in 2002, the initiative was a breakthrough. It countered the Arab League's famous "Three No's" that followed the 1967 Mideast war, when Israel captured the West Bank and east Jerusalem from Jordan, the Sinai Peninsula and Gaza Strip from Egypt and the Golan Heights from Syria. At a summit in Khartoum, Sudan, the Arab countries passed a resolution saying no peace, recognition or negotiations with Israel.
The 2002 initiative, endorsed by the Arab League and the 57-member Organization of Islamic Cooperation, offered Israel normalized relations in exchange for a full withdrawal from territories captured in 1967. However, it was overshadowed by Israeli-Palestinian fighting and was greeted with skepticism by Israel.
Now the initiative has gained new life thanks to interest from Kerry, who has been trying to restart peace talks between Israeli and the Palestinians, frozen since 2008. Palestinians refuse to talk unless Israel stops construction of settlements in the West Bank and east Jerusalem. Netanyahu calls for talks with no preconditions.
In a significant breakthrough, Kerry last month persuaded the Arab League not only to renew its peace initiative, but to sweeten it by saying the final borders between Israel and a future Palestine could be modified from the 1967 lines through agreed land swaps. This small but significant amendment could open the way for Israel to keep some of its Jewish settlements as well as holy sites in east Jerusalem.
Netanyahu's chief peace negotiator, Tzipi Livni, welcomed the gesture as "good news," but the prime minister has said little. In veiled criticism, Netanyahu declared that the conflict with the Palestinians wasn't "territorial," but instead was due to their refusal to recognize Israel as the homeland of the Jews.
Other issues besides borders have plagued the negotiations for decades. Palestinians insist on the "right of return" for the descendants of about 700,000 refugees who fled or were driven from their homes in the war that followed Israel's creation in 1948, now estimated at 7 million people. Israel rejects the return of refugees to what is now Israel, saying their home should be the future Palestine. The Arab initiative calls vaguely for a "just solution" to the refugee issue, but negotiations would be difficult.
Also, agreeing to share Jerusalem and its holy sites would pose a tough challenge.
Twice in the past, in 2000 and in 2008 under Olmert, Israeli offers based on the 1967 lines and territorial swaps, a formula similar to the present Arab initiative, did not result in peace accords, partly because of the other stumbling blocks. Olmert says he made great progress.
In contrast, U.S. officials have noted that once borders are agreed on, the settlement issue would be resolved automatically. Israel unilaterally removed 21 settlements from Gaza when it withdrew from the area in 2005, as well as all its settlements in Sinai when it returned the territory to Egypt under a 1979 peace treaty.
Netanyahu's spokesman, Mark Regev, said the Israeli leader was keeping quiet to avoid jeopardizing Kerry's efforts to restart talks. Kerry has been shuttling between the sides in recent weeks and is expected to return to the region later this month.
"If we are going to achieve … a return to talks, it will be done through the success of a very discrete negotiating process going on at the moment," Regev said. "It would be wrong to interpret silence as either acceptance or rejection" of the Arab plan, he said.
American officials have tried to play down Netanyahu's silence, saying they are pleased with Livni's public embrace of the Arab plan's modifications. Arab League officials did not respond to requests for comment.
Netanyahu has not spelled out his vision beyond grudgingly endorsing the idea of a Palestinian state while rejecting division of Jerusalem. Many of his backers say that managing the conflict, not resolving it, is the best anyone can hope for now. They also question the merits of returning land to Syria, which is embroiled in a bloody civil war, or engaging other Arab countries at a time of regional turmoil.
Deputy Israeli Defense Minister Danny Danon, a senior member of Netanyahu's Likud Party, said he did not consider the Arab peace initiative a significant achievement.
"Going back to the 1967 lines and dividing Jerusalem is not the will of a majority of Israelis," Danon said.
In his comments to the AP, Olmert stopped short of criticizing Netanyahu, though in a TV interview earlier this month he called on the Israeli leader to "stop making excuses" and seize the initiative.
Given the tumult in the region, "it is important … especially now to connect with moderate forces to promote the peace process," Olmert told the AP.
Other critics used far tougher language. Erel Margalit, a lawmaker with the opposition Labor Party, said Netanyahu's silence was unacceptable.
"This is not a technical issue. It's a strategic issue which Israel needs to speak about loudly and clearly. We are thrilled this initiative is on the table," said Margalit, who is forming a parliamentary lobby in favor of the Arab peace plan. "It gives Israel a vision, not only of what to give up, but also what we could gain," he said.
Danny Yatom, a former director of the Mossad spy agency, called Netanyahu's silence a "mistake."
Yatom said actually implementing the Arab peace plan at the current time is impossible given the many changes rocking the Middle East, but embracing it could bring many benefits by helping to "strengthen and cement mutual trust." Firm Arab support could encourage the Palestinians to make concessions and also lead to breakthroughs in Israel's relations with Arab countries, he said.
"It will help. It will pave the way," he said.
ABC news