Turkish fighter jet lost near Syria in probable accident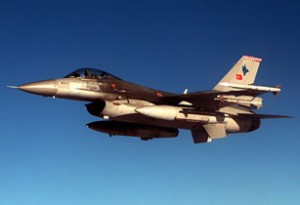 Turkey's military said on Monday that it had lost one of its F-16 fighter jets near Osmaniye, about 50 km (30 miles) from the border with Syria, but NTV television quoted military sources as saying the crash had probably been an accident.
Last June, Syria shot down a Turkish F-4 reconnaissance jet off the Syrian coast. It said it had acted in self-defense without knowing that the jet was Turkish, although Turkey said the plane had been identifiable and in international airspace.
There was no immediate word on what precisely happened to the F-16 on Monday, although the military said in a statement that the pilot had radioed to say he was ejecting. The sources quotes by NTV said it now appeared likely that the loss of the plane was an accident.
Relations between the two countries have been strained ever since Turkey fell out with President Bashar al-Assad over his violent response to what began as a peaceful protest movement and then became an armed rebellion.
Turkey now harbors Syrian rebel forces and refugees on its territory, and has called for Assad's departure.
Syrian army shells have strayed into Turkish towns, and on Saturday, Turkey blamed a group with links to Syrian intelligence for two bomb blasts that killed 46 people on the Turkish border town of Reyhanli, home to thousands of Syrian refugees and a logistics base for the rebels.
Reuters