Israel colluding with Hezbollah, Iran to save Assad , report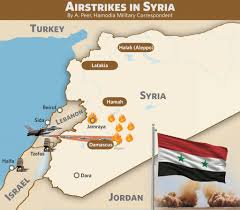 A Syrian opposition commander has accused Israel of colluding with Iran and Hezbollah in an effort to save the regime of Syrian President Bashar Assad , Turkish news network Today's Zaman reported on Sunday.
Abdulkader Saleh, a commander in the al-Tawhid Brigade of the Free Syrian Army told Today's Zaman that "Assad has protected Israel's border for 40 years," and that is why Israel is cooperating with "Iran and Hezbollah to be able to support Assad" against the rebels .
Despite previous media reports that last week's airstrikes in Syria were an
The Syrian regime claimed that the Israeli strikes last week were aimed at aiding the rebel forces and to stop Assad from helping Hezbollah attain destructive weapons, but Saleh told Zaman that these reports were false.
"The opposition was going to take over the arms and not Hezbollah and that is why Israel attacked. We have evidence pointing to this," he told Zaman.
According to Saleh , the opposition had an arrangement with several high ranking Syrian officials, to transfer weapons to the rebel fighters and Israel acted to stop this transaction from happening.