2 Rockets fired from Syria injure 2 people in Lebanon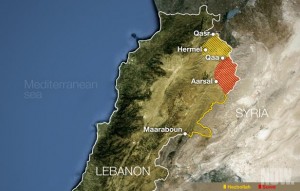 Two Grad Rockets fired from Syria landed in the Lebanese area of Hermel in the Al-Qasr border town leading to the injury of a female Syrian national and a Lebanese man who is a member of the Al-Jamal family, National News Agency reported on Sunday.
Yesterday Four rockets from the Syria landed in Hermel according to local reports. One rocket fell near the Hermel Public Hospital on the eastern entrance of the city while the other three hit a hill overlooking the Assi River, few Kilometers from Hermel.
Several rockets have targeted Hermel over the past weeks, launched by Syrian rebels who claim they were targeting Hezbollah sites in retaliation for the party's involvement in fighting in Syria.
Hezbollah argues it is defending Lebanese residents of Syrian villages in Al- Qasr and the holy shrine of Sayyeda Zeinab in a Damascus suburb against rebel attacks.