Gemayel accuses FPM of obstructing electoral law deal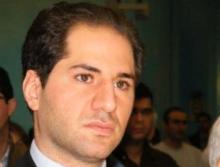 Phalange Party coordinator MP Sami Gemayel accused the Free Patriotic Movement of being the main hurdle against reaching a possible consensus between the Christian parties over a new electoral law that will replace the current 1960 law.
"The main problem is not with the Marada Movement but with the FPM. We don't actually know which law they want," Gemayel said in remarks published by Al-Hayat newspaper on Friday.
"For two months we have been seeking an alternative for the Orthodox law, but until now the FPM hasn't told us which alternative they want. This is a main hurdle in the elections issue." he said
The main Christian parties, including the phalange Party, Lebanese Forces , Marada and FPM, had voiced support for the Orthodox law which calls for proportional voting along sectarian lines.
The parties later announced that they would withdraw their support for the aforementioned law to facilitate agreement over a consensual law proposal.
Speaker Nabih Berri has decided to hold a parliament session on May 15 to decide on an electoral law that will replace the 1960 law.
Hezbollah chief Hassan Nasrallah, a close ally of FPM leader MP Michel Aoun vowed in his speech on Thursday to back the proposed Orthodox gathering electoral law in the parliament if put to a vote.