Kerry told Putin: US, Russia share common interests in Syria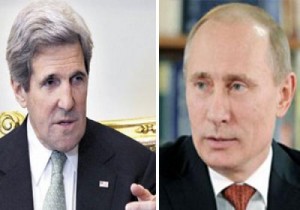 U.S. Secretary of State John Kerry told Russian President Vladimir Putin on Tuesday the United States and Russia share common interests in Syria, including promoting regional stability and preventing the spread of extremism.
At the start of talks in the Kremlin, Kerry told Putin that efforts to end the two-year-old conflict that has killed more than 70,000 people in Syria are among issues on which the former Cold War foes can work together.
"The United States believes that we share some very significant common interests with respect to Syria – stability in the region, not having extremists creating problems throughout the region and elsewhere," Kerry said.
He said he hoped the two countries would be able to find "common ground" on Syria. They both endorsed a plan for a political solution for Syria last June but have differed over how to implement it.
Kerry said U.S. President Barack Obama also believes Russia and the United States could cooperate "significantly" on issues including North Korea, Iran and economic ties, which both sides say have not lived up to their potential.
Kerry's visit is part of an effort to improve relations between Russia and the United States, which have been strained by disagreements over issues including human rights and Syria since Putin's return to the Kremlin a year ago.
Reuters