Official: Hezbollah inciting strife in Bahrain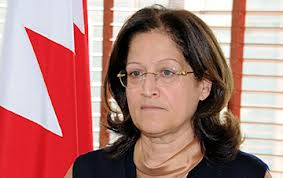 Bahrain's Minister of State for Information Affairs Samira Rajab accused the Lebanese militant group Hezbollah of encouraging terrorism and inciting strife in her country.
"Hezbollah is fanning the flame of conflict in Bahrain and training terrorists," Rajab was quoted as saying by Kuwaiti daily Al-Rai on Tuesday during a press conference at an Arab media forum in Bahrain.
The minister also said that her country was "coordinating with Gulf states and other world countries" to designate Hezbollah as a terrorist organization.
The tiny Gulf kingdom of Bahrain became the first Arab country to place the Shiite Lebanese militant movement, Hezbollah, on its list of terrorist organizations. It is a rather bold step on their part and the implications are enormous while the ultimate consequences are yet unknown. In punishing Hezbollah, Bahrain is at the same time pointing an accusing finger directly at Iran.
For the past 2 years the authorities in Manama, the Bahraini capital have been blaming Iran and Hezbollah for fomenting the troubles. Bahrain claimed that Hezbollah was training Bahraini Shiites in revolutionary tactics in secret camps in Lebanon.
Now / Agencies