Syrian fuel tankers returned empty to Syria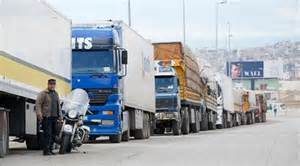 Several fuel tankers returned to Syrian via the Masnaa border crossing on Monday a day after residents blocked their way to prevent them from entering Lebanon, according to National News Agency ( NNA).
NNA added that the residents blocked the Majdal Anjar road near the Syrian border with burning tires to protest the crossing of the tankers into Lebanon.
On Sunday, several youth and residents also blocked the main road that links Rashaya al-Wadi with the Masnaa crossing to prevent six fuel tankers from crossing to Syria.
The tankers, which were accompanied by military armored personnel carriers, withdrew to the outskirts of Rashaya al-Wadi after the protesters warned that they would burn the trucks.
Last March, several Syria-bound fuel tanker trucks were torched in northern Lebanon and the residents blocked the roads that lead to Syria to prevent them from crossing into the country.
With Lebanon's government doing nothing to stop the shipments, opponents say their attacks are necessary to halt the delivery of as much as 250,000 gallons of diesel fuel a day by private Lebanese companies, a flow they say is helping to sustain the war effort of the Syrian military in a conflict that has left more than 80,000 dead.
While Syria is a large producer of crude oil, its limited refining capacity has long left it dependent on imported gasoline and diesel, and the disruptions in supplies caused by the two-year-old civil war have made those needs more acute. Rebel forces now control the majority of Syria's oil fields.
The attacks on the fuel trucks underscore how deeply the war in Syria has left Lebanon divided, with most Sunnis supporting the opposition while most Shiites support the government of Syrian President Bashar al-Assad.
"There is a political and military motive for these attacks," Hilal Khashan , a professor of political science at the American University of Beirut said earlier in April . "Fuel is a strategic military weapon. And private companies in Lebanon are supplying the regime with fuel, mostly to operate its military machine." He added