Syrian lights self on fire in Beirut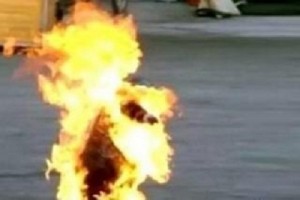 A Syrian man has sustained third degree burns after setting himself on fire at a main square in Beirut, the state-run National News Agency reported on Monday.
NNA said that Ahmed Mahmoud al-Youssef, 19, was taken to the Geitaoui hospital on Sunday night when he self-immolated by pouring gasoline over his body at Barbour square in Corniche al-Mazraa.
Medical examiner Kevork Kouyoumjian said al-Youssef remains in very serious condition in hospital.
Reports have said that the Syrian national had financial troubles and debts and was incapable of paying them.
Naharnet