Syrian envoy denied Hezbollah 's role in Syrian civil war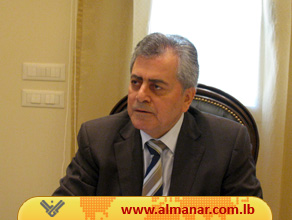 Syrian ambassador to Lebanon Ali Abdel Karim Ali met Lebanon Speaker Nabih Berri at his mansion in Ain el Tineh, LBC reported on Monday
Following the meeting, Ali slammed media reports that Hezbollah is sending fighters to Syria to help the Syrian forces , and accused the media of distorting the facts in this issue . He stressed that Hezbollah is helping Lebanese in border villages defend themselves.
"The Syrian border villages include Lebanese and Syrian residents, so we must accept it when some Lebanese confront terrorists in order to defend themselves," Ali said .
"Syria and its army and institutions do not need support financially or through fighters and arms," he declared.
Ali said that the crisis witnessed in Syria aims at weakening the country, and accused the US, Saudi Arabia, France, Qatar and Turkey of being behind the Syrian crisis
"Those funding and arming the gunmen need to cease their actions in order for the crisis to end," Ali stressed.
He predicted that Syria will be victorious in the end and "those banking on the collapse of Syria, the resistance in the region, and the Palestinian cause will fail."
138 Hezbollah fighters killed in Syria
Former Hezbollah Secretary General Sobhi al-Tofaili said on April 25 that Iran pressed Hezbollah fighters to join the civil war in Syria to bolster President Bashar Assad's armed struggle.
Tofaili's allegation, made on Lebanon's Future Television, echoes similar comments by George Sabra, interim leader of the Syrian National Coalition, at a press conference in Turkey on April 22.
The former Hezbollah chief said that at least 138 Hezbollah militiamen had died in Syria and scores had been wounded. The organization is split over its involvement, he said.
The uprising against Assad began with peaceful protests in March 2011 that turned violent when the government forces turned their guns on demonstrators.
"Hezbollah fighters have crossed the border and started to kill our people to support the murderer Bashar Assad," Sabra said at a televised press conference on April 22. The group is "occupying Syrian villages, murdering civilians, preventing them from peacefully expressing their views."
Hezbollah has denied it is backing Assad in the fighting, saying it's helping Lebanese Shi'ites living in Syrian border towns and villages to defend themselves against rebel assaults. It has remained largely silent amid a wave of recent accusations by Syrian opposition leaders and Lebanese groups about its involvement in Syria.