Jumblatt urges Russian envoy to end Syria crisis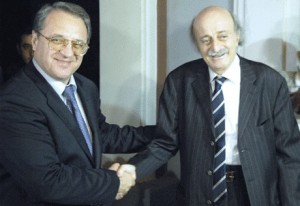 Progressive Socialist Party leader MP Walid Jumblat on Friday called on Russia to exert efforts to end the war that has been raging in Syria for more than two years.
"We are going through a crisis that might be the most dangerous crisis and the unity of the Lebanese might be jeopardized by the Syrian event," Jumblat warned.
During talks in Mukhtara with Russian Deputy Foreign Minister Mikhail Bogdanov, Jumblat said: "We see in Bogdanov's visit an additional indication on the Lebanese-Russian friendship and Mukhtara will not forget the moral, material and political support offered by Russia when Lebanon was facing the partitioning scheme."
He stressed that any solution to the Syrian conflict must be based on the 2011 Arab initiative and the 2012 Geneva statement.
The statement — agreed by Russia, which has blocked three U.N. Security Council resolutions on Syria, and the United States — calls for a transitional governing body with full executive powers. It does not say anything about the fate of Syrian President Bashar Assad.
After the meeting with Jumblat, the Russian diplomat said: "We're proud of our old friendship with Mount Lebanon, Mukhtara and the friend Walid Beik."
"We have always sought to protect Lebanon and there is a unified stance on Syria that everyone agreed on in Geneva and this is the basis and there is no alternative to this peaceful solution," he added.
In response to a question Bogdanov said: "We told all Lebanese parties that we are against interference in others' affairs and we have to help through peaceful efforts concerning Syria."