Armenians stage angry protest against Turkey in Beirut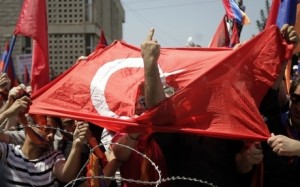 Armenians marched from Bourj Hammoud to downtown Beirut's Martyrs' Square on Wednesday to mark the 98th anniversary of the genocide of their kin by Ottoman Turks during World War I.
Armenians say up to 1.5 million people were killed during World War I as the Ottoman Empire was falling apart, a claim supported by several other countries.
Turkey argues 300,000 to 500,000 Armenians and at least as many Turks died in civil strife when Armenians rose up against their Ottoman rulers and sided with invading Russian troops.
Over 20 countries have so far recognized the massacres as genocide.
The protesters held a rally at the square with speeches made by the leaders of several Armenian parties.
The families of nine Lebanese Shiite pilgrims kidnapped in Syria joined them over what they said was a common cause.
The relatives of the nine men have been holding daily sit-ins near the Turkish Airlines offices not far from Martyrs' Square and have called for boycotting Turkish products.
They blame the Turkish government for the failure to release the pilgrims who are held hostage by Syrian rebels near the Turkish border in Aleppo district since May 2012.
Ankara is a staunch supporter of the rebel Free Syrian Army that is fighting regime troops.
On the 98th anniversary of the genocide, Armenian Catholicos of Cilicia Aram I slammed Turkey for turning churches into mosques.
"How could Turkey which considers itself a pioneer in coexistence deny the genocide and transform churches into mosques?" he wondered in a statement.
Turkey should give compensations to the Armenian people and restore its rights, he said.
Naharnet