Lebanon's legendary political caricaturist Pierre Sadek dies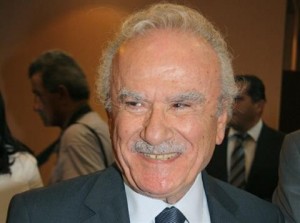 Lebanon's leading caricaturist Pierre Sadek who was famous for his decades of work poking fun at politicians died on Wednesday. He was 76.
State-run National News Agency said Sadek died after a long sickness.
Sadek rarely spared any politicians from his criticism in his drawings, which were published during and after Lebanon's 1975-90 civil war.
A graduate of the Lebanese Academy for Fine Arts, Sadek worked for several local newspapers, including An-Nahar. In 1986, he became Lebanon's first caricaturist to do his drawings on TV as part of the main evening newscast.
He had several publications including "Laugh with Pierre Sadek at Politicians."
In his drawings, Sadek expressed the viewpoint of the Lebanese citizen, always depicted wearing the traditional costume of black baggy pants and a red cap.
Sadek was first decorated with the National Order of Cedars with the title of Knight during President Suleiman Franjieh's mandate, and the title of Officer by President Elias Hrawi and former Prime Minister Rafik Hariri.
He won the Saeed Aqel Award twice and obtained various awards both locally and abroad, the latest of which was the Lyon's prize in 2000.
Sadek was the writer of four books and was working on a collection of his work over the span of 50 years.
Hours after news of Sadek's passing surfaced, officials and politicians expressed condolences and described the artist as a national icon as they praised his lasting mark on political satire.
ABC News