Over 500 killed in Syria on Sunday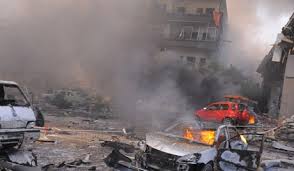 Activists and human rights organization have reported a staggering number of people killed in Syria on Sunday to be over 500 in total. It is yet another dark day in Syria, where tens of thousands of people have been killed in the ongoing violence that began with street protests two years ago.
"The number of martyrs in Syria has risen to 521 thus far, including tens of women and children: 474 martyrs were reported in Damascus and its suburbs most of them were killed in Jdaidet Artouz massacre; 19 in Idlib, among them 14 in Maghara village; 10 in Homs; 5 in Deir Ezzor; 5 in Hama; 5 in Aleppo; and 3 in Daraa," reported Local Coordination Committees in Syria.
The Syrian Observatory for Human Rights said on Sunday it was able to document the names of 80 people killed in Jdaydet al-Fadel, including women and children, and that the death toll might be much higher.
Opposition fighters pulled out of the town on Saturday because they ran out of ammunition, according to the pro-rebel rights group.
By Sunday morning, government forces had taken full control of the area.
The killings reportedly took place during four days of fighting between government forces and anti-regime fighters.
Many were killed during shelling and in summary executions, according to the Observatory.
BN
Update : The death toll rose to 557 in Syria on Sunday according to the Local Coordination Committees in Syria