Hezbollah Motorcade fires at a car and injures a woman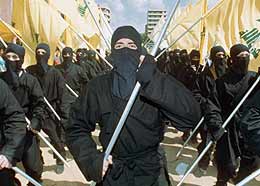 Gunmen of a Hezbollah Motorcade fired gunshots at a car at the Masnaa border crossing with Syria, injuring a Syrian woman Voice of Lebanon radio (100.5) reported on Friday.
Future TV quoted witnesses as saying "a four-car motorcade belonging to a Hezbollah leader was 'provoked' by the presence of a Renault Rapid car on the side of the road near the Lebanese General Security position at the Masnaa border crossing."
"At once, gunmen in the convoy opened fire at and around the car, which left a Syrian woman lightly wounded," the TV network added.
According to Future TV, the Renault Rapid's driver, who was shopping at a nearby store, fled the scene as the Hezbollah motorcade made its way to Syria. Security forces present in the area did not take any measure, the TV network said.
The Syrian woman who was injured was taken to a nearby hospital .
Hezbollah has been at the center of controversy in recent weeks as a number of figures claimed fighters affiliated with the party have deployed in the Homs province along the border with Lebanon, sparking anger from Syrian rebels who accuse the party of fighting alongside the regime.
Hezbollah has acknowledged that its members living in Syrian villages on the border with Lebanon have taken part in battles against "armed groups" in self-defense. However, it refuses to discuss allegations by Syrian rebels that it has sent fighters from Lebanon to bolster the forces of its ally, Syria's President Bashar al-Assad.