HRW implicates Syrian leadership in attacks against civilians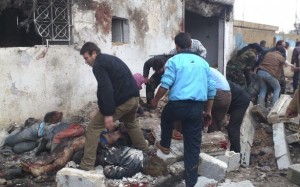 Syrian government forces have bombed bakeries and hospitals and indiscriminately carried out air attacks against civilians, Human Rights Watch said in a newly released report. Such strikes violate the laws of war and should be prosecuted as war crimes, it stated.
Scores of interviews with witnesses and victims of government airstrikes revealed that the Syrian air force had frequently and sometimes deliberately attacked ordinary people, the rights group said.
The air attacks "clearly and irrefutably implicate the senior leadership," Human Rights Watch researcher Ole Solvang told The Times via email. "Pilots cannot take off with their planes and repeatedly commit war crimes without the knowledge of the senior leadership."
Hospitals and bakeries were bombarded repeatedly, suggesting they were targeted on purpose. One Aleppo bakery was bombed at least three times in August, twice while people were waiting in line for bread. Two hospitals had been struck seven times by the time Human Rights Watch visited.
"We had just finished surgery and moved to the second floor when the rockets hit," a doctor at Dar Shifa Hospital in Aleppo told the group. "If they had hit just minutes before, we would have all been dead."
Even if rebels were in or around that hospital, as Syrian state media and two people interviewed by the group suggested, "the attacks were disproportionate," the rights group wrote.
Besides the attacks on bakeries and hospitals, Human Rights Watch listed dozens of other cases in which Syrian forces were waging war indiscriminately. For instance, Syrian government forces have used cluster bombs that explode in midair, sending smaller, deadly bomblets over vast areas that can kill anyone in their path, the rights group said.
In November, a jet unleashed cluster bombs on a field where children were playing in Deir Assafeer, killing at least 11 of them, residents told Human Rights Watch. "It sounded like fireworks but of course louder," one witness said. "Then I heard people screaming and running toward the playground."
Syria has repeatedly rejected accusations that its forces have committed human rights abuses and says it is taking justified steps to flush out terrorists armed and funded from abroad. Last year, it denied using cluster bombs, calling such assertions "baseless."
There were 152 civilians slain in the strikes documented in the report, Human Rights Watch said. It found no evidence that any opposition fighters were killed.
Human Rights Watch also criticized Syrian rebels for not doing everything they could to avoid endangering civilians. In earlier reports, it has called on the armed opposition to halt torture and summary killings.
The number of killings chronicled in the new report are a fraction of the deaths reported in Syria by opposition activists. More than 4,300 civilians have been killed by airstrikes since July, according to the Violations Documentation Center, which gathers reports of human rights violations from local activists. Human Rights Watch investigations on the ground were limited to areas held by the Syrian opposition because the government has denied access to other parts of the country.
LA Times