Syria warplanes wage new strike on Lebanon border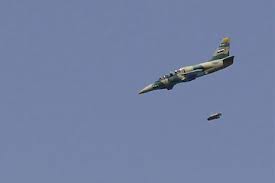 A Syrian warplane dropped five shells on Wednesday on a rural area in northeastern Lebanon near the Syrian border, a military official told AFP.
"A Syrian jet dropped five shells on the outskirts of Sarjal Ajram. No one was hurt," the official said on condition of anonymity.
Sarjal Ajram lies northeast of Arsal, which is home to a majority Sunni population, and whose residents support the uprising in neighboring Syria against President Bashar al-Assad.
Syrian warplanes bombarded northern Lebanon for the first time in the country's spiraling two-year conflict on March 18, a Lebanese army official and a US official said, though Damascus denied responsibility for the attacks.
Syria's conflict has further entrenched deep divisions in Lebanon.
While Lebanon's Sunni-led March 14 movement supports the rebels, the powerful Shiite movement Hezbollah and its allies back the Assad regime.
Damascus has called on Lebanon to better control its border crossings, accusing the small Mediterranean country of allowing rebels to smuggle weapons and fighters across the border.
Syria dominated Lebanon politically and militarily until 2005, and has continued through its allies to exert significant influence on the country.
Al Arabiya