Syria's Nusra pledges allegiance to Qaeda's Zawahri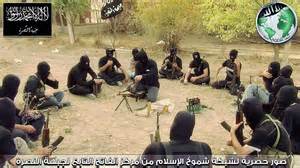 BEIRUT , Lebanon – Syria's al-Nusra Front formally pledged allegiance to al Qaeda leader Ayman al-Zawahri, according to an audio tape posted online on Wednesday.
Abu Mohammad al-Golani, leader of the Syrian group, said: "The sons of Nusra Front renew their pledge (of allegiance) to the Sheikh of Jihad Ayman al-Zawahri and declare obedience."
Cool on Al Qaeda Iraq merger
But, al-Golani added, "we were not consulted" on an announcement by Al-Qaeda in Iraq chief Abu Bakr al-Baghdadi on Tuesday of a merger with Al-Nusra Front.
"Al-Nusra Front will not change its flag, though we will continue to be proud of the flag of the Islamic State of Iraq, of those who carry it and those who sacrifice themselves and shed their blood for it," said al-Golani, acknowledging he had fought in Iraq alongside the ISI, Al-Qaeda's Iraqi branch.
"We reassure our brothers in Syria that Al-Nusra Front's behaviour will remain faithful to the image you have come to know, and that our allegiance (to Al-Qaeda) will not affect our politics in any way," he added.
Concern
Syrian opposition leader Burhan Ghalioun voiced concern yesterday that the merger would play into the Syrian government's argument that it is fighting an insurrection by Sunni Muslim extremists. He said all liberal, democratic-minded and moderate Syrians should "redouble our efforts to restore the real face of the uprising."
The conflict in Syria began in 2011 with peaceful protests and turned violent after government troops began attacking the demonstrators. At least 70,000 people have been killed in the unrest.
Could Hurt al Nusra
The move by Al-Qaeda in Iraq could undermine support for Al-Nusra Front, or Jabhat al-Nusra in Arabic, which has been credited with playing a major role in rebel gains against forces loyal to Syrian President Bashar al-Assad, analysts said.
"This could potentially hurt Jabhat al-Nusra within the country, which would then affect the insurgency on some level," Aaron Zelin of the Washington Institute for Near East Policy said.
"Jabhat al-Nusra has got a really good reputation in the country, and the name Al-Qaeda is discredited throughout most of the Muslim world at this point.
Islamism specialist Cole Bunzel said that the open admission that Al-Nusra was not a Syrian-born organisation but a creation of Al-Qaeda in Iraq appeared to be a strategic blunder.
"It emphasises the fact that Jabhat al-Nusra is a foreign entity, and it is Al-Qaeda," said Bunzel, a PhD candidate at Princeton University.
"No longer can Jabhat al-Nusra, or what it's now called, gloss that over, or deny that connection.
"Strategically, it doesn't seem to make a lot of sense, but at the end of the day, Jabhat al-Nusra is what it is," said Bunzel, who wrote a detailed post analysing the announcement for the Jihadica blog.
"What it is, is Al-Qaeda."
In a Facebook post shortly after the announcement, Abu Baseer al-Tartusi, a well-respected adviser to the Syrian Islamic Front, a militant group that, though not as radical as Al-Nusra is still regarded as hardline, said it could lead to infighting among rebel groups and give pro-Assad forces a rallying cry.
"The biggest losers from this announcement are the oppressed and violated Syrian people, and their blessed, orphaned revolution," he wrote.
FSA distances itself from al Nusra
The Free Syrian Army (FSA) on Tuesday (April 9th) distanced itself from Jabhat al-Nusra (JAN), following the statement by al-Qaeda in Iraq .
"We do not support the ideology of JAN," FSA spokesman Luay al-Meqdad told AFP.
"There has never been and there will never be a decision at the command level to co-ordinate with JAN. The situation on the ground is what has imposed this," he said.
"It is a tactical and time-limited co-operation […] and JAN is not attached to the FSA," al-Meqdad said.
"No one has the right to impose on Syrians what shape their state will take," he said.
Reuters/ AFP