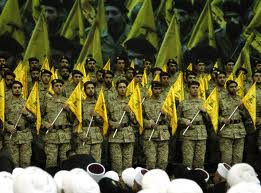 A bomb was discovered overnight Tuesday in the predominantly Shiite neighborhood of Beirut's Hay al-Sellom with a message targeting Hezbollah, MTV television station.
MTV report added that it bore markings signed by Al-Nusra Front and targeting the Shiite group.
"May Bashar Fall. Death to Hezbollah. Al-Nusra Front." The markings read
Voice of Lebanon (100.5) radio station reported on Wednesday that a Hezbollah explosives expert sealed off the area preventing Internal security forces and bomb disposal experts from approaching the scene.
The explosives were loaded into a 30-cm ( 12 inches) glass bottle and connected to electrical wiring, according to reports , adding that the device was ready to use.
Al Nusra Front which has has been linked to Al-Qaeda has been labeled a terrorist group by the United States.
Hezbollah is reportedly helping Syrian president Bashar al-Assad in his crackdown against the Syrian uprising that started in March 2011. More than 70,000 people mostly civilians have been killed , according to figures released by the United Nations.
Several Hezbollah fighters that were killed in Syria during the past months have been buried in Lebanon.
Al Nusra has warned Hezbollah in the past that it target its bases in Lebanon if it continues to to support Assad.