PSP nominates Jihad Zuhairi instead of Aridi in Beirut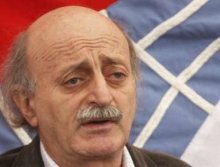 Progressive Socialist Party nominated Jihad Zuhairi for the Druze seat in Beirut, according to PSP media representative Rami el Rayes .
During a press interview on Wednesday Rayes said that "the nomination of Zuhairi came after minister Ghazi Aridi announced that he is not interested in running in the upcoming parliamentary elections."
Very little is known about Zuhairi other than the fact that he comes from a prominent Beirut Druze family.
On the other hand Aridi , who was was born into a Druze family in Baisour in 1955 has been associated with PSP since 1972.
In 1980 he became assistant secretary of the PSP . He was sent to Algeria where he remained during the Israeli invasion of Lebanon. In 1991, Aridi began to serve as political advisor of PSP leader MP Walid Jumblatt.
Aridi first won the Druze seat of Beirut's third district becoming a member of parliament in 2000. He was part of the Hariri's electoral list, called "Beirut Al Karama" (Beirut Dignity). Aridi was first appointed minister of information to the cabinet led by then prime minister Rafik Hariri in October 2000 and his tenure lasted until 2003. Then he served as the minister of culture in Hariri's fifth cabinet from 17 April 2003 to 7 September 2004.
Later Aridi served as the minister of information in Fouad Siniora's cabinet until 2008. Next, he was appointed minister of public works and transportation to the cabinet of then prime minister Fouad Siniora in July 2008.
Aridi won a seat Beirut's third district in the 2009 general election as part of the 14 March alliance list. He continued to serve as minister of public works and transportation in the Saad Hariri cabinet from 2009 to 2011. In the cabinet, he was a member of democratic gathering and majority alliance.
Aridi was again appointed to the same post on 13 June 2011 in the Najib Mikati's cabinet. As a member of the Progressive Socialist Party, he is one of the three ministers appointed by Jumblatt in the cabinet. When Jumblatt defected from March 14 , several MPs left his parliamentary bloc. He later renamed his bloc as " National Struggle Front"
It is not clear why Aridi is not interested in running. During an interview last Thursday with LBCI Jumblatt denied that he is dumping Aridi.
Ya Libnan will soon find out and report.