Salam will quit if Lebanon parliament term extended, report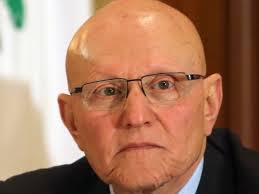 Prime Minister-designate Tammam Salam warned on Wednesday that he will step down if the parliament's term was extended.
His decision comes shortly after the Lebanese parliament referred a draft law to President Michel Suleiman that calls for suspending the deadline for submitting nominations for the parliamentary elections.
"I might step down as the PM-designate if the parliament's term was extended," Salam told Future TV.
He pointed out: "My stand is in harmony with that of the majority of lawmakers and with Suleiman's stance".
Suleiman announced late Wednesday that he will sign the draft law issued by the parliament.
"I will sign the referred suggestion in order to allow time for consensus over a new electoral law," Suleiman tweeted.
The clash between the two rival Lebanese camps over the mechanisms of the parliamentary elections, whether it should be according to a 1960 law or new legislation redistributing the electoral districts, is being bitterly contested.
And there's no sign of compromise from either camp.
On the formation of a new cabinet, Salam's sources stressed to LBCI television on the need for the new government to be homogeneous among its members.
The establishment of a "heavily political" government will only mean that it will be burdened by the demands of various political powers that will consequently prevent it from properly carrying out its duties, they explained.
The premier-designate revealed to Future TV that he will hold talks with the president on Thursday to discuss the cabinet's formation.
The sources quoted Salam as saying: "I will step down from my post after the elections are held,"adding "Our mission will be over if the elections are not held," he added.
"I was appointed with the aim of staging the parliamentary elections," he remarked.
"If they want to extend parliament's term, then they should come up with a government to oversee such a step," he said.
Salam concluded on Wednesday two-day consultations with parliamentary blocs over the formation of a new government.
Each of the blocs presented Salam with a wish list. According to observers It will be impossible for Salam to form a cabinet based on the wish lists because they are so contradictory.