Lebanese trucks prevented by Syria from returning home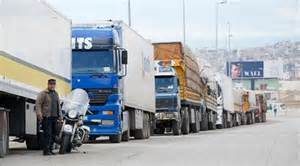 Abbas Ibrahim Lebanon's General Security chief headed on Tuesday to Syria to tackle the issue of the Lebanese trucks that have been stranded in Syria and prevented from returning to Lebanon, NOW reported on Wednesday.
The sources also reported that Ibrahim met with Syrian security officials in Jdeidet Yabus in order to resolve the case, after which he returned to Lebanon on the same day.
Abbas' trip to Syria came after meetings with mayors of Beqaa towns, who requested him to intervene in this case and work on releasing three Lebanese citizens detained by Syrian security officials.
A Syrian intelligence checkpoint in Jdeidet Yabus on March 25 prevented 75 refrigerator-trucks with Lebanese license plates from crossing the border into Lebanese territory, according to the report
Four of the trucks' drivers, who are Lebanese, were transferred to the Damascus political security branch while four Syrian intelligence checkpoints were set up along the borders to prevent the Lebanese trucks from returning to Lebanon.
Three of the four detained drivers were identified as Ali Nassir, Ali al-Sayyed, and Qassem Zaarour.
Syria has always been a problem for Lebanese exporters and for this reason the chambers of Commerce in Sidon and Tripoli have been working on using the sea as the mode of transportation of Lebanese exports for the future . So far a truck ferry route has been established between Sidon and Aqaba Jordan and Tripoli is working on a similar arrangement to bypass Syria.