13 People Killed in Shooting Spree in Serbia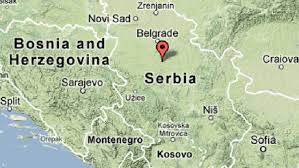 A 60-year-old veteran gunned down 13 people in Serbia, including a baby, in a pre-dawn house-to-house rampage Tuesday before trying to kill himself and his wife, police and hospital officials said.
The man, identified as Ljubisa Bogdanovic, used a handgun in the shooting spree at five houses in Velika Ivanca, a village 50 kilometers (30 miles) southeast of Belgrade, emergency hospital spokeswoman Nada Macura said. The dead included six women, several of them his relatives.
Residents of the village described the suspect as a nice quiet man. They said he first killed his son before leaving the house and then began shooting his neighbors, some of whom were still asleep.
"He knocked on the doors and as they were opened he just fired a shot," said resident Radovan Radosavljevic. "He was a good neighbor and anyone would open their doors to him. I don't know what happened."
Neighbor Milovan Kostadinovic said the suspected killer was caught by a police patrol while on the way to his house.
"If they didn't stop him, he would have wiped us all out," Kostadinovic said, standing in front of his two-story, red tile- roofed house — one of a dozen modest homes that make up the village, which is located on a lush green hill covered with fruit trees. "He shot himself when police stopped him."
Serbian police chief Milorad Veljovic said 12 people were killed immediately between 5 a.m. and 5:30 a.m., and one person died in a Belgrade hospital. The man and his wife were both severely injured by the shootings and another person was also injured, the hospital spokeswoman said.
"We are all caught by surprise," Veljovic told reporters. "Most of the victims were shot while asleep."
He said the motive for the killings Tuesday was unclear.
The suspect had lost his job last year and fought as a Serb volunteer soldier in the war in Croatia in 1992, the police chief said. Villagers said Bogdanovic fought in Vukovar, the eastern Croatian town that was destroyed in a massive Serbian-led army offensive — the scene of the worst bloodshed during Croatia's 1991-95 war for independence.
Macura, the hospital spokeswoman, said the shooter had no known history of mental illness. Stanica Kostadinovic, another neighbor, said the man's father had hanged himself when he was a young boy and his uncle had a history of mental illness.
Although such shootings are rare in Serbia, weapons are readily available, mostly from the 1990s wars in the Balkans. Initial reports said the suspect had a license for the handgun.
Serbian Prime Minister Ivica Dacic said Tuesday the killings should serve as a warning that the government should pay more attention to gun control laws and other social problems facing the Balkan country, which is still reeling from the wars in the 1990s.
Police blocked off the village while forensic teams and investigators in white protective robes took evidence from homes where the shootings took place.
Serbia's last big shooting spree occurred in 2007, when a 39-year-old man gunned down nine people and injured two others in an eastern village.
ABC/ AP