Who nominated Salam, Jumblatt or March 14 ?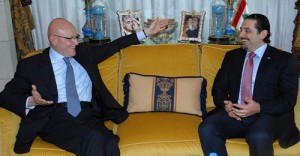 During an interview last Thursday with LBCI on Kalam elNas program, Progressive Socialist party leader MP Walid Jumblatt took credit for the nomination of MP Tamam Salam as the next Lebanese Prime Minister, but Lebanese Forces leader Samir Geagea disputed Jumblatt's claim .
"March 14 is the party that named Salam," Geagea stated in an interview on MTV on Monday.
Denying Jumblatt's remarks that he had suggested Salam for the premiership, Geagea said: "Tammam Salam was first nominated by the March 14 forces and Jumblatt joined the settlement later on and this is the truth".
"(Internal Security Forces chief Maj. Gen.) Ashraf Rifi's name was raised over the last five days, and I was with such a nomination, but then we started discussing non-provocative candidates and Salam's name was suggested. (Former premier) Saad Hariri then told Jumblat there are two candidates — Salam and Rifi — and Jumblat picked Salam."
Geagea elaborated: "When we named him, the kingdom of Saudi Arabia welcomed the step, exactly like it would have welcomed any other candidate."
"Saudi Arabia has endorsed the stance of neutrality towards the domestic Lebanese issues." Geagea stressed
Geagea explained that Riyadh's role was to "convince Jumblatt of March 14's candidate in light of his reconciliation with the kingdom."
Salam assumed the position of prime minister-designate on the second day of parliamentary consultations on Saturday after garnering a total of 124 votes by lawmakers.
Salam had paid a visit to Saudi Arabia, shortly before he was nominated for premiership, where he met with Hariri and Saudi Intelligence chief Prince Bandar bin Sultan, sparking rumors that his nomination is part of a Saudi-sponsored settlement that includes the formation of the cabinet and the staging of parliamentary elections.
"March 8 wanted to renominate (caretaker PM Najib) Mikati, but (Free Patriotic Movement leader MP Michel) Aoun did not accept the renomination," Geagea said.
Geagea pointed out that Salam was "the only person who showed solidarity with Christians in their boycott of the 1992 elections."
"I seriously wish PM-designate Salam all success and he is a man of principles," Geagea added.