Lebanon president asks army for a report on Syria shelling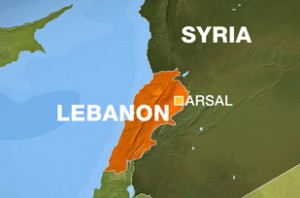 Lebanon President Michel Suleiman asked General Jean Kahwaji the commander of the Lebanese Armed Forces on Thursday to submit to the Foreign Ministry a copy of the security reports on the shelling by Syrian helicopters of the outskirts of the Lebanese town of Arsal.
Suleiman also asked Kahwaji to submit a report on the March 18 Syrian airstrike outside Arsal, National News Agency reported.
This development comes after Syrian helicopters on Wednesday conducted two air strikes against the Beqaa town of Arsal.
A Syrian helicopter gunship fired two missiles Wednesday that hit a remote region known as Sraj al-Qaisar, on the outskirts of Arsal and only one kilometer away from a Lebanese Army checkpoint.
Also Wednesday, a Syrian tank fired two shells on an orchard on the fringes of the Bekaa border region of Masharih al-Qaa, killing seven sheep and wounding several others.
Syria also bombed targets outside Arsal in March after Damascus warned Beirut it would hit "terrorists" based in Lebanon.
Relocating Syrian refugees
Suleiman reiterated his call for an international conference to discuss a mechanism to "distribute the excess in Syrian refugees to friendly and brotherly countries."
He also suggested the establishment of refugee camps inside Syrian territory in a a special zone "away from areas of conflict, " close to the borders with Lebanon, Iraq, Jordan and Turkey under the protection of UN affiliated forces.
Lebanon sovereignty
Reacting to Syria's bombing of Lebanon border area Washington has Syrians to respect Lebanon's sovereignty .
"We call on all parties in the Syria conflict to respect the sovereignty of Lebanon," U.S. State Department spokesperson Victoria Nuland told reporters during a daily press briefing.
In response to a question, Nuland said that if the strike "is in fact confirmed by the Lebanese side, it would represent the latest and most egregious violation of Lebanon's sovereignty, coming just on the heels of the regime's March rocket attacks into border areas of al-Qasr, Wadi Al- Khayel."
Nuland reiterated Washington's longstanding commitment to U.N. Security Council Resolutions 1559 and 1701.