Saudi Prince Al Waleed calls for elections, even partial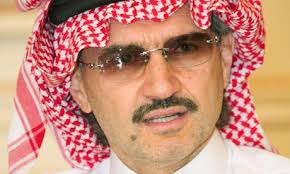 Saudi billionaire Prince Al Waleed Bin Talal has called for parliamentary elections in the country, where the king names all the members of the Shura consultative council.
Prince Al Waleed, the richest Arab businessman and a nephew of King Abdullah Bin Abdul Aziz, said in a television interview aired late Tuesday that the monarch's January decision to appoint 30 women to the council was "very important" but needed to go further.
"For this to become historic, I think two things are essential: first, elections, even if partial, and, more importantly, [giving] powers," he said in the interview aired on several channels, most belonging to his media empire.
The prince also said that ending a ban on women driving in Saudi Arabia was a matter of time, despite strong resistance from religious conservatives in the kingdom that is the birthplace of Islam.
Saudi stock market
In another interview Prince Alwaleed called on the kingdom's regulators to open up the stock market to foreigners and reduce its reliance on retail investors.
In a televised interview aired on 23 channels, the prince, who owns stakes in some of the world's top companies, said Saudi Arabia needed to upgrade its equity markets to international standards while protecting its blue-chip companies from hot international money.
"The Saudi market needs to rely less on individual investors. Saudi Arabia is 90-95 percent dominated by individual investors and 5 percent by institutions, opposite to what is there in America and Europe," bin Talal said.
"Yes there is concern about the hot money, but we can control foreign investors by, for example, introducing shares Class A or B and give access to 20 percent or 30 percent of the shares of each company," the prince said.
He added that Saudi Arabia had the right to protect strategic companies like Saudi Basic Industries Corporation (Sabic) from hot foreign money.
Foreigner investors can only buy Saudi shares through swap deals made by international investment banks, and via a small number of exchange-traded funds (ETFs).
Abdulrahman al-Tuwaijri, chairman of the Capital Market Authority (CMA), had said last year that the kingdom was planning to open up the market to foreign investors but that it should be done in an orderly and gradual manner to make sure it did not threaten market stability.
The CMA is considering allowing qualified foreign investors to take a capped share in each Saudi company, with international buyers able to own a total of around 20 percent of the market's value, according to proposals circulated to the financial industry last year.
Saudi Arabia's benchmark has risen 5.5 percent so far in 2013, and the economy is forecast to grow 4 percent this year, according to a Reuters poll in January.
Richer than Forbes thinks
In a related development the Prince, who is the grandson of the late Lebanese PM Riad el Solh also said that he will pursue US magazine Forbes in the courts, following a row over its Rich List last month.
The prince cut his ties with the publisher after it valued his total wealth at US$20bn – US$9.6bn less than his own estimate.
"We will face them firmly and legally," Alwaleed said when asked by a group of hosts in an three-hour interview on his Rotana entertainment channel on Tuesday night.
"If you go back to the article, [the disagreement] isn't just related toForbes – it's related to Saudi Arabia, the Saudi stock market and trading in the market. They said the market and trading environment was like a casino. We don't accept his. We took it upon ourselves to defend the kingdom, its reputation, and market trading. Saudi Arabia is a G20 nation; it has a strong and valuable economy. Therefore we don't accept these accusations and will stand up to them."
Asked if the disagreement with the magazine was personal, he responded: "No no… US$1bn, US$10bn this has no value to me. It's of course important but it's not essential. But the attack on Saudi Arabia's monetary system and its policies related to the stock market? This is completely rejected."
Reuters/Agencies