Iran, N. Korea, Syria denounce the first UN arms treaty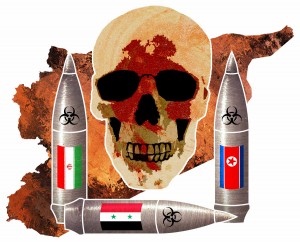 The U.N. General Assembly voted overwhelmingly Tuesday to create the first international treaty regulating the global arms trade, a landmark decision that imposes new constraints on the sale of conventional arms to governments and armed groups that commit war crimes, genocide and other mass atrocities.
The U.N. vote was hailed by arms control advocates and scores of governments, including the United States, as a major step in the international effort to enforce basic controls on the $70 billion international arms trade. But it was denounced by Iran, North Korea and Syria for imposing new restrictions that prevent smaller states from buying and selling weapons to ensure their self-defense.
The treaty covers a wide range of conventional weapons, including battle tanks, armored combat vehicles, large-caliber artillery systems, combat aircraft, attack helicopters, missiles and small arms. These items could not be transferred to countries under U.N. arms embargoes or states that promote genocide, crimes against humanity or war crimes.
The United States, which co-sponsored the treaty, said several U.S. agencies will conduct a review before the accord is presented to President Obama for signature. The treaty would require ratification by the Senate.
The National Rifle Association contended during negotiations that the treaty would weaken Second Amendment gun rights in the United States. The powerful gun lobby has pledged to fight the treaty's ratification in the Senate.
U.S. officials and several non-governmental organizations, including the American Bar Association, have argued that the treaty would have no impact on American gun rights.
The specific language of the treaty recognizes the "legitimate trade and lawful ownership, and use of certain conventional arms for recreational, cultural, historical and sporting activities."
On Tuesday, Secretary of State John F. Kerry welcomed the approval of the treaty, describing it as a "strong, effective and implementable" tool that can "strengthen global security while protecting the sovereign right of states to conduct legitimate arms trade."
The United Nations' 193-member assembly voted 154 to 3 to adopt the treaty. There were 23 abstentions, including from major arms traders including China, India and Russia, as well as Qatar and Saudi Arabia, which are supplying weapons to opposition groups in Syria. The treaty will not go into force until 90 days after it is ratified by 50 states.
The vote came four days after Iran, Syria and North Korea – three governments that would likely be targeted by the new measures — blocked an attempt to adopt the treaty by consensus. They argued that the treaty is unfair to them and riddled with deficiencies. Both Iran and North Korea are under current arms embargoes.
Some countries had broader misgivings. India, Egypt, Indonesia, Pakistan were among the countries that said the treaty would grant an unfair advantage to the world's largest arms exporters.
India's chief negotiator, Sujata Mehta, explained her government's decision to abstain, saying Tuesday that the treaty "is weak on terrorism and non-state actors." She previously objected that the "weight of obligations is tilted against importing states."
Iran, meanwhile, protested last week that the treaty had provided specific protections for American gun owners and failed to provide protections for people living under foreign occupation.
The treaty would require governments to establish a national record-keeping system that would track the trade in conventional arms. They would also have to ensure that weapons are not illegally diverted to terrorist organizations or other armed groups. In addition, governments would conduct risk assessments to determine the likelihood that arms exports were being used to abuse human rights, particularly against women or children.
Washington Post