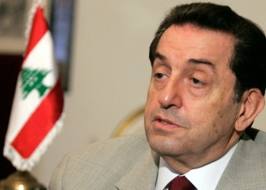 Lebanon's Independent Christian MPs announced following a meeting at MP Boutros Harb's office on Tuesday that they will name the same candidate for premiership as the March 14's coalition.
"The attendees have agreed to coordinate with the March 14 forces in order to reach consensus on one candidate for the premiership ," the independent Christian MPs said in a statement on Tuesday.
They added that the new prime minister must form a neutral government of and that the members of the cabinet should not be parliamentary candidates in the upcoming elections. They also stipulated that the newly formed cabinet must agree on a new electoral law for the upcoming parliamentary elections as soon as it is formed .
The cabinet of caretaker PM Nagib Mikati collapsed when Hezbollah and its allies blocked the creation of a body to supervise the upcoming parliamentary elections and refused to extend the term of Internal Security Forces chief Ashraf Rifi.
Mikati announced his resignation on March 22 , at the Grand Serail following the last cabinet session at the Baabda palace.
On March 23, President Michel Suleiman accepted Mikati's resignation and requested him to continue in his role at the head of a caretaker government until a new one is formed.