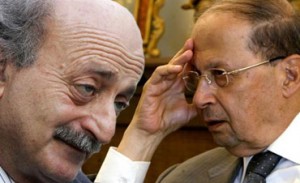 Progressive Socialist Party (PSP) leader MP Walid Jumblatt will not allow the Free Patriotic Movement ( FPM) leader MP Michel Aoun to have the energy and telecommunication ministres in a future cabinet. Also Sharp differences surfaced between them Tuesday on the nature of the new cabinet and the name of the PM-designate , As Safir newspaper reported.
"FPM will not be handed over the energy and telecommunications ministries… It's impossible and will not happen again," the newspaper quoted Jumblatt as saying.
As Safir also reported that Aoun rejects the renomination of Caretaker PM Najib Mikati to lead the new cabinet after he resigned on March 22 unless he has guarantees that his bloc will keep the energy and telecom portfolios.
Hezbollah has been trying to bridge the differences between Aoun and Jumblatt, because without his ( Jumblatt's) support March 8 alliance will not be able to form a new cabinet.
The cabinet of caretaker PM Mikati collapsed when Hezbollah and its allies including FPM blocked the creation of a body to supervise the upcoming parliamentary elections and refused to extend the term of Internal Security Forces chief Ashraf Rifi.
Mikati announced his resignation on March 22 , at the Grand Serail following the last cabinet session at the Baabda palace.
Last Saturday March 23, President Michel Suleiman accepted Mikati's resignation and requested him to continue in his role at the head of a caretaker government until a new one is formed.
Aoun has 10 out of the 30 portfolios in the outgoing cabinet.