FPM minister accuses Mikati of non compliance with Taef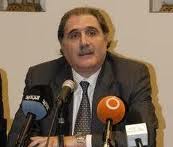 Labor Minister Salim Jreissati who represents Free Patriotic Movement leader MP Michel Aoun in the cabinet accused caretaker PM Nagib Mikati of not complying with the Taef accord when he decided to resign.
Jreissati said that the Change and Reform Bloc is totally displeased with Mikati's attitude.
According to Voice of Lebanon – Radio Station Jreissati said the Taef accord stipulates that the prime minister must first coordinate his resignation with his colleagues in the cabinet before he tenders his resignation.
Observers were surprised that Jreisati is pushing for compliance with the Taef accord, especially since his boss General Aoun has never accepted the accord and has criticized it ever since it was signed on 22 October 1989.