Hezbollah accuses M14 of maneuvering to keep the 1960 law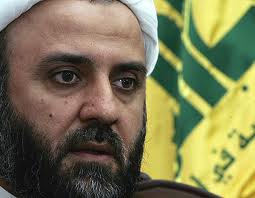 Hezbollah official Nabil Qawouk slammed on Sunday the March 14 alliance, accusing it of maneuvering to keep the 1960 electoral for use in the upcoming parliamentary elections
" March 14 engaged in a policy of procrastination to [force] the Lebanese elections to be held under the 1960 law… in a deliberate attempt to dismiss a law that would not give it a majority," the state controlled National News Agency quoted him as saying in reference to the law that was approved by the Hezbollah dominated cabinet last August.
In another development the leader of Hezbollah's parliamentary bloc, MP Mohammad Raad, called for the new Lebanese cabinet to uphold the formula of the unity of the Lebanese people, army and Resistance. March 14 has rejected the formula in the past.
President Michel Suleiman has already set April 5 and 6 as the dates for consultations with the parliamentary blocs and independent lawmakers on their choice for a new prime minister-designate, who would in turn form a Cabinet. With no clear agreement on the type cabinet that should be formed to supervise the upcoming elections, some are predicting a delay in the formation process.
Hezbollah, which was credited with liberating Lebanese territories from Israel in 2000 was a very popular organization in Lebanon and throughout the Arab world. But according to analysts ever since its 2006 war with Israel, Hezbollah has become a huge liability for Lebanon. In 2006 Hezbollah's arms were used to try and bring down the government of former PM Fouad Siniora. In 2008 Hezbollah pointed its guns against the Lebanese people when it occupied more than half of Beirut and tried but failed with a great loss of life to occupy Mt Lebanon . In 2011 it brought down the government of former PM Saad Hariri and reportedly used its arms to force progressive socialist party leader MP Walid Jumblatt and his parliamentary bloc to vote for their candidate Nagib Mikati as the new premier . On March 22 the government of PM Mikati collapsed after Hezbollah refused to extend the term of the Internal Security Forces chief. Hezbollah's current support for the Syrian regime in its brutal crackdown against the pro democracy uprising and its recent involvement in terror operations in Bulgaria and Cyprus are additional concerns for the Lebanese people, analysts say.
Last Wednesday one Hezbollah member was sentenced to jail in Cyprus for four years.