Chavez meets his idols in Heaven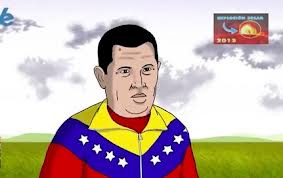 "Hugo Chavez, Che Guevara, Simón Bolívar, and Salvador Allende all meet in Heaven." You'd be forgiven for thinking that was the opening line of a mediocre joke, but it's actually an animated TV spot, put together by Venezuela's state-run TV station, ViVe.
According to Foreign Policy, the spot, titled "Goodbye Forever Commander," features the late Venezuelan leader, who died on March 5 after an extended battle with cancer, passing expressionless through a field of peaceful trees and green grasses.
As mysterious piano music plays in the background, Chavez — wearing his signature Venezuelan-flag tracksuit — stumbles across his idols waiting for him by a thatched hut. His mouth falls open in surprise, then turns to a smile as he walks to the group, taking his place among them.
The Miami Herald notes ViVe may be particularly fond of Chavez, as the leader created the station in 2003.
Saint Chavez?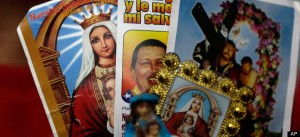 Holding a Bible in her arms at the start of Holy Week, seamstress Maria Munoz waited patiently to visit the tomb of the man she considers another savior of humanity.
The 64-year-old said she had already turned her humble one-bedroom house into a shrine devoted to the late President Hugo Chávez, complete with busts, photos and coffee mugs bearing his image. Now, she said, her brother-in-law was looking for a larger house to display six boxes' worth of Chávez relics that her family has collected throughout his political career.
"He saved us from so many politicians who came before him," Munoz said as tears welled in her eyes. "He saved us from everything."
Chávez's die-hard followers considered him a living legend on a par with independence-era hero Simon Bolivar well before his March 5 death from cancer. In the mere three weeks since, however, Chávez has ascended to divine status in this deeply Catholic country as the government and Chavistas build a religious mythology around him ahead of April 14 elections to pick a new leader.
Chávez's hand-picked successor, Nicolas Maduro, has led the way, repeatedly calling the late president "the redeemer Christ of the Americas" and describing Chavistas, including himself, as "apostles."
Maduro went even further after Argentine Cardinal Jorge Mario Bergoglio became Pope Francis earlier this month. Maduro said Chávez had advised Jesus Christ in heaven that it was time for a South American pope.
That comes as Maduro's government loops ads on state TV comparing Chávez to sainted heroes such as Bolivar and puts up countless banners around the capital emblazoned with Chávez's image and the message "From his hands sprouts the rain of life."
"President Chávez is in heaven," Maduro told a March 16 rally in the poor Caracas neighborhood of Catia. "I don't have any doubt that if any man who walked this earth did what was needed so that Christ the redeemer would give him a seat at his side, it was our redeemer liberator of the 21st century, the comandante Hugo Chávez."
Chavistas such as Munoz have filled Venezuela with murals, posters and other artwork showing Chávez in holy poses surrounded by crosses, rosary beads and other religious symbolism.
One poster on sale in downtown Caracas depicts Chávez holding a shining gold cross in his hands beside a quote from the Book of Joshua: "Comrade, be not afraid. Neither be dismayed, for I Will be with you each instant." The original scripture says "Lord thy God," and not "I," will accompany humanity each instant.
The late leader had encouraged such treatment as he built an elaborate cult of personality and mythologized his own rise to power, said Carolina Acosta-Alzuru, a University of Georgia media studies scholar who hails from Venezuela.
She said Chávez's successors are clearly hoping that pumping up that mythology can boost Maduro's presidential campaign, which has been based almost entirely on promises to continue Chávez's legacy. The opposition candidate, Gov. Henrique Capriles, counters that Maduro isn't Chávez, and highlights the problems that Chávez left behind such as soaring crime and inflation.
"They're fast-tracking the mythification," Acosta-Alzuru said of the government. "Sometimes I feel that Venezuelan politics has become a big church. Sometimes I feel it has become a big mausoleum."
Teacher Geraldine Escalona said she believed Chávez had served a divine purpose during his 58 years on earth, including launching free housing and education programs and pushing the cause of Latin American unity.
"God used him for this, for unifying our country and Latin America," the 22-year-old said. "I saw him as a kind of God."
Such rhetoric has upset some religious leaders and drawn the reproach of Venezuela's top Roman Catholic official, Cardinal Jorge Urosa Savino, on the eve of the Easter holidays.
"One can't equate any hero or human leader or authority with Jesus Christ," Urosa warned. "We can't equate the supernatural and religious sphere with the natural, earthly and sociopolitical."
Chávez, in his days, crossed paths frequently with Venezuela's church, which sometimes accused the socialist leader of becoming increasingly authoritarian. Chávez described Christ as a socialist, and he strongly criticized Cardinal Urosa, saying he misled the Vatican with warnings that Venezuela was drifting toward dictatorship.
Some Chávez supporters waiting to visit his tomb on a hill overlooking Caracas said their comandante is with them in spirit — and for that reason they planned to vote for Maduro, confident that Chávez was guiding his hand.
"He's still alive," said 52-year-old nurse Gisela Averdano. "He hasn't died. For me, he will always continue."
HP/Fox